Cimpunda Congo 2017 Embroiery and Sewing
Location: Cimpunda / Bukavu / Province South Kivu / RDC

Project leadtime: 6 months

Requestor: Actions pour la jeunesse "apj-asbl"
Responsible person : Anurite Mupenda Lucie

Description of the project:
In R.D. Congo lots of girls are victims of sexual harassment. Once pregnant they are abandoned. To survive they end up in prostitution with all related risks. This happens to young girls in Bukavu (Nyakaliba and Nkafu). 'Actions pour la jeunesse' wants to start a project to offer these child-mothers and their babies a way to survive (basic needs). The purpose of this project is to learn some skills to these child-mothers, to buy sewing machines and to rent a place as atelier (for sewing, for embroidery and to repair cloths for individuals). The funds will be used to pay the rent and to maintain the machines.
Objectives:
Purchase of 10 sewing machines and amenities
Hire to sewing professionals to give the training
Rent a house (atelier)
Purchase of tables, chairs, boards, tissue, ironing machines
Start the training in sewing and embroidery (6 months)
These trainings will be permanently organised for the benefit of the people living in the neighbourhood of the atelier
Beneficiaries:

50 child-mothers will be trained in sewing and embroidery.
Budget:
8.050 €
Risks:
Child-mothers stepping out of the training
Bad/wrong management of the funds
---
Follow-up of the project
Date: December 29th 2017 – 1st trimester

Name project: Project 76 – Cimpunda – Embroidery and sewing
General status:
On September 29th we signed the cooperation agreement for the project "Embroidery and sewing". The activities are: rent a house to provide the trainings, purchase of the machines, order tables and chairs, purchase of tissues and accessories and recruit trainers. The project is evolving well. The centre is operational and 50 child-mothers are following the courses since November 20th (pictures and documents are attached).
Progress since last status report:
- The training has started and 50 child-mothers appreciate the training very much and are sincerely interested.
- The customers are slowly coming in, requesting our services.
Financial status:
The received money has been spend as budgeted for all activities but some adventitious expenditures popped up (e.g. installation costs, transport, ….). On top of that we need money to pay the teachers (On December 20th we paid them $ 240 i.e. $ 120 per person per month) (cfr financial report attached)
Problems/concerns:
- The rented space, used as classroom, is too small (insufficient space for all tables and chairs, so for all students in 1 go)
- The sewing-service has a low demand because of lack of marketing and awareness. The broidery machine is not working because of lack of power (we don't have a generator).
- The young mothers are bringing their babies but we don't have beds nor food. The main question is when they will get a starter kit to start their own small workshop. All questions we can't answer as we did not budget for starter kits!
- Girls and unemployed youngsters, without knowledge nor skills, of other districts and municipalities are begging to allow them to our trainings.
Attached documents (pictures, reçu's,…):
Pictures, financial report
---
Follow-up of the project april 2018
Date: Bukavu april 3th, 2018

Name project: project 78: Cimpunda, RD Congo
General status:

The project evolves well, the group embroiery and sewing becomes well known and the workshop is operational.
Progress since last status report:

- The training is being continued and the 50 girls are very dedicated, they can work very well with the sewing machines and the training comes to an end.
- The 'sewing and embroidery workshop' becomes familiar to the residents and surroundings.
- Purchase of a generator to make the machine function; we pay the fuel.
- 6 girls have contacted us for a paid training at the cost of 9 dollars per month / per person.
Financial status:

No problems, the trainers receive their premiums. Activities are gradually increasing (purchase of generator, fuel, supplies (see financial report attached)
Problems/concerns:

- The fuel for the generator means a loss.
- Problem to train our own embroiderer.
- Problem to find a 'kit d'insertion' for the child mothers to finish their training by June.
- Problem to buy a 'Brother' machine that would offer the opportunity to put names, brands or logos on clothing, clinic uniforms and other fabrics.
Attached documents (pictures, reçu's,…):

Financial report, receipts and photos
---
Images
Clic on the image to see the whole album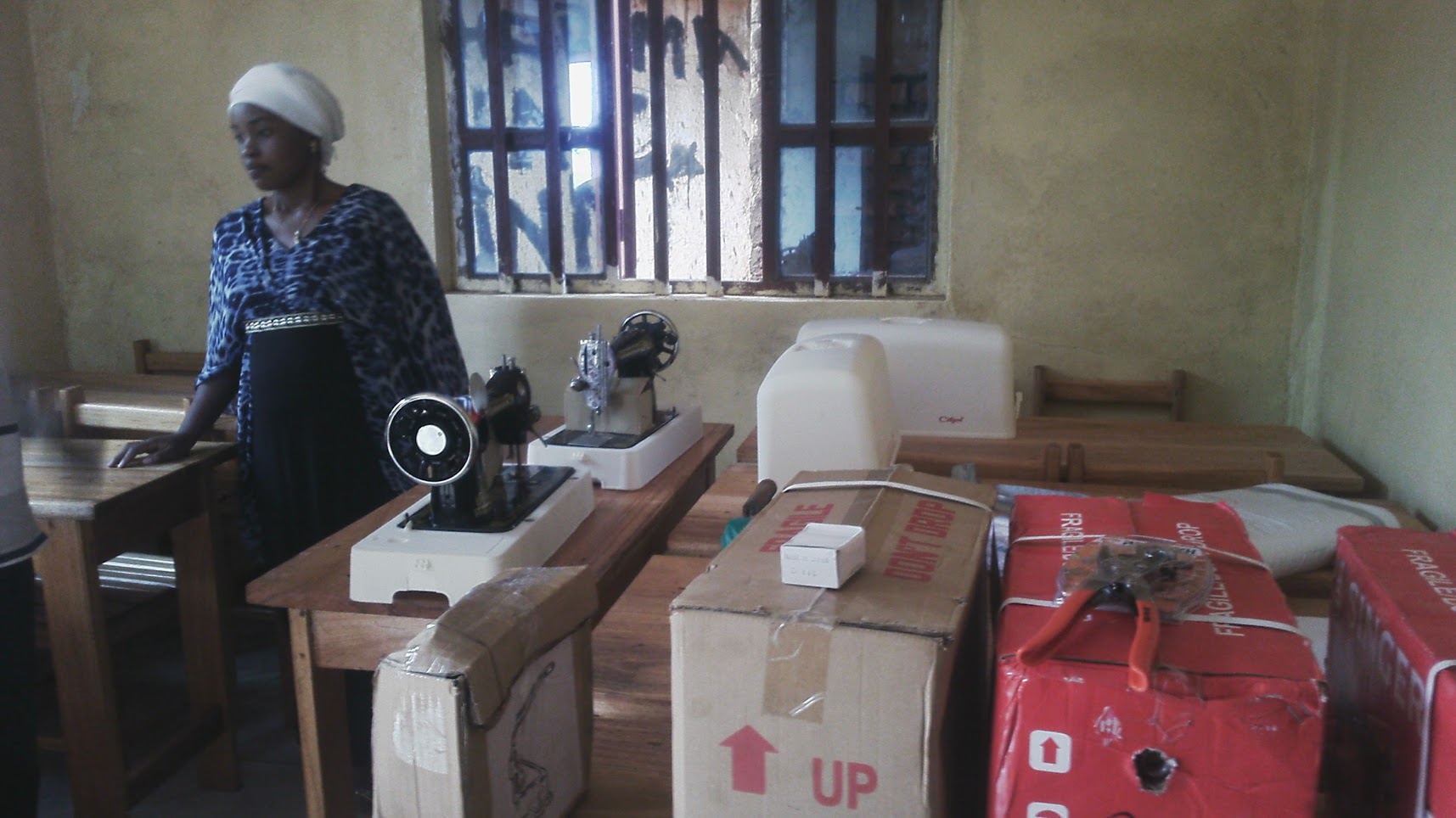 ---