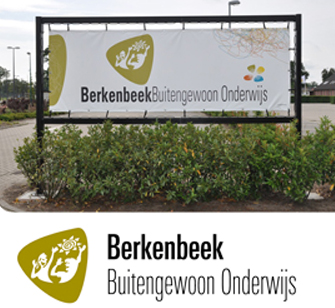 Berkenbeek Wuustwezel 2013
SPECIAL EDUCATION PRIMARY SCHOOL BERKENBEEK

This school year the theme "I hobble, I step, I jump" is very lively in the special education primary school Berkenbeek. Along with the two figures "frog and butterfly" the children go on the way ...
They work around their own talents and each other's talents, when making choices in life (and how we need each other in this), at directions in life that they (will) walk along.
This they also literally do go hiking on Friday 29 March 2013. Then all children "walk for another"; for Vleugels van Hoop.
Just like the butterfly of Vleugels van Hoop, they want to also consider the lifestyle of other people on this wondrous globe, people whose choices in life are often limited. Giving them the chance to work on their talents and also their life path, is something for which they like to walk this year!
---
Report of the action
François and Bernadette presented, together with Paul and Anita, Vleugels van Hoop at our school on March 14 and 15 2013.
All children came during these 2 mornings to watch and listen, each time in a small group. The comments were sincere and sometimes also touching; just as also our children themselves are!
That we also were allowed to hold and try out some African stuff was top!
Did you know that children spontaneously wondering if...
...they could also buy such a T-shirt with a butterfly?
... they also could pass on cuddly toys and clothes to François and Bernadette?
...there are washing machines in Rwanda?
...moms and dads in Rwanda don't have problems with their neck or back as they have to wear everything on their head?
... François and Paul would still come back to Belgium if they again would leave by plane?
Also the teachers were very excited and surprised that everything was brought so clear and understandable to our children.
The fact that a lot of children wore all kinds of things on their heads in class, shows that Vleugels van Hoop impressed them!
---
Closing Celebration.
29.03.2013: The final of the action "walk for another" of the special education primary school Berkenbeek in Wuustwezel!
Children and teachers left together the school and walk to the Church of the neighbouring Achterbroek where a closing celebration will be held. A delegation of Wings of hope is waiting for the children at the entrance of the Church. Many children are genuinely happy to see us again.
The celebration is brilliant, what an involvement of both children and teachers! Butterfly and frog, the 2 characters who have gone on reconnaissance, are also present. In the background are the symbols of Vleugels van Hoop, because the celebration is dedicated to "give hope" to another, in this case to the disabled children in Rwanda.
When the director discloses the amount that the children brought together, we are, just like the children themselves and the teachers, sincerely touched: 3440 Euro brought together by a school with about 300 pupils! Fantastic! Our president is so emotional and touched that she can hardly express our gratitude. .
By this, in name of the children in Rwanda: thank you so much to the directorates, teachers and especially to the children of this exceptional school, BuBaO Berkenbeek Wuustwezel!
---
Images
Clic here to see more pictures.