Pig Farm Project Bweyeye Rwanda
0. INTRODUCION
The rearing of pig project aims the rural development of Bweyeye sectors people. Bweyeye Sector is one among the 18 Sectors which composed Rusizi District of Western province. Bweyeye sector is located near the Forest of Nyungwe National Park at 98km from Kamembe airport toward Rwanda-Burundi border called Bweyeye.
It is bordered:
On the north by Cyato sector of Nyamasheke district ;
On the west by Butare sector of Rusizi district;
On the south by commune Mabayi of the Republic of Burundi;
On the East by Katabi of Nyamagabe and Kivu of Nyaruguru districts both of Southern Province.
Other information:
Over ¾ of Bweyeye sector area is occupied by natural forest of Nyungwe National park of 34,981square km;
The population of Bweyeye is 14728;
Bweyeye sector is located at 12km from Mabayi and 7.5km from Gitukura;
Altitude Bweyeye range between 1560m and 2050m.
PROJECT STUDY
1. Name of the project: Pig farm project
2. Beneficiaries: Project Membership
Rusizi Population
Country in General
3. Address: Pig Farm project

4. Person to be contacted: GATETE Eustache

5. Type of the project: Local Technical fund (LTF)

6. Location of the project:

Cell: Kiyabo
Sector: Bweyeye
District: Rusizi
Western: Province
7. Number and type of beneficiaries

The membership of the project are 10 including: 3 women and 7 men
8. Duration of the project

This project is a short term project of about 36 months renewable where by every 12 months of the working there will be project evaluation to check up whether the project has some returns or loss and to make the total budget of the coming year.
9. Total cost of the project
The total cost of the project is 4'813'386RWF
10. Amount of fund solicited from the project
The source of fund is from money of owned capital which is 705'808 RWF (904,88 euro) in our partial budget and loan of 4'107'578 RWF(= 5266,12 euro aan een koers van 780 RwFr voor 1 euro) from Vleugels van Hoop.
Therefore the total fund required is 4'813'386RWFR.(= 6171,00 euro)
This project is called "PIG FARM PROJECT" based on rearing of pigs in advanced manner. It is located in Bweyeye Sector, Rusizi District, and Western Province. The membership of this project decided to keep pigs because of people's negligence in keeping this type of animal. This negligence led to shortage of pork, fine nutritive manure for soil fertilization and site for scientific research especially on pigs. The plan of activities includes housing for these animals, feeding, caring, curing and selling pig products. The above activities will take 28 months. The coordination of this project is excepting to work with all people surrounding piggery farm project, especially youth.
III. BACKGROUNDS AND PROBLEM ANALYSIS
According to climatic factors and geographical location of the region on which this project is going to be carried out, some pigs that like cold altitudes will be favored and others that like hot altitudes will not be favored. The region on which the project is going to be carried out is also a high mountainous whereby some type of pigs that like low land will again not be favored. Therefore while choosing or selecting the type of pigs to be reared, the above factors have to be considered.
3.1. The problems expected to be solved by the project
Poverty among membership of the project;
Shortage of pork and manure at markets around the area;
Lacking of scientific research on pigs for various people of different agriculture institutions;
Shortage of knowledge of keeping pigs for people around the piggery farm project;
Shortage of soil fertility due to lack of important manure which spread decrease of agricultural productivity;
Unemployment of people around piggery farm project.
The above problems existed in western Province since long ago because of tradition beliefs, religion especially Moslems and lack of appropriate knowledge of keeping pigs will be solved by the project.

3.2. Solution expected to the project

3.2.1. Solution to the above problems is as follows below:
Poverty among membership will be solving by selling of young born piglets, pork and manure whereby money will earned.
Fertilization on cultivable or arable land will be done by using farm yard manure from piggery farm;
After setting this project in Rusizi District, research site on pigs will be availed to various people from different agriculture institutions;
People surrounding the farm are expected to acquire knowledge of how pigs are cared and how profitable there are;
Some people around the farm will be privileged to have jobs from the piggery.
4.1. The main objectives of the project
To improve soil fertility and soil productivity;
To improve agriculture techniques
To combat animal diseases;
To combat poverty among the membership and pig production at the market within the region and country wide.
The above objectives will be achieved as follows;
People surrounding piggery farm project will be motivated to rear pigs and taught how useful and importance they are on them. Therefore they will be encouraged to rear pigs. The coordination of piggery farm will try by all means to find market for pigs products especially hotels, bars, restaurants for pork.
People neighbor the piggery farm who are jobless will have an opportunity of being employed by the project. Therefore their standards of living will be improved.
The following activities are expected to be done during the execution of the project:
Purchase of the land ;
Fencing the land ;
Building piggery houses;
Purchase of piglets;
Purchase of piggery equipments;
Feeding.
VI.DETAILS

6.1. Puchasing the land

SN°

Size

Number

price/Unit/Rwfr

Cost/Rwfr

1

1ha

1

650000

650000

Total

650000

6.2.Fencing the land

SN°

Materials

Number

Price/Unit/Rwfr

Cost/Rwfr

1

poles

30

500

15000

2

Nails

20kg

1000

20000

3

Barb dunes

_

_

26500

4

Labor cost

10Men

2000

20000

5

Wood

_

_

100000

Total

181500

6.3.Building

SN°

Items

Number

Price/Unit/Rwfr

Cost/Rwfr

1

Wood

150

800

120000

2

Stones

25m3

2500

62500

3

Sand

30m3

2000

60000

4

Iron sheets

60

6000

360000

5

Cement

30sacs

9500

285000

6

Nails

15kg

1200

18000

7

Metallic tube

4

12000

48000

8

Wire mesh

30m

1100

33000

9

Wooden doors

2

7000

14000

10

Water tank

1

100000

100000

11

Latrine

1

80000

80000

12

Carpenter

5

2500

12500

13

Grillage

_

_

65000

Total

1258000

6.4. Piggery farm equipments

SN°

Materials

Number

Price/unit/rwfr

Cost/rwfr

1

Feeding container

4

5000

20000

2

Wood cover for piglets

3

6000

18000

3

Litter materials

_

_

25000

4

Piglet feeders

6

1000

6000

5

Spades

2

2000

4000

6

Hoes

2

2000

4000

Total

77000

6.5. Feeding

SN°

Items

Quantity

Price/Unit/Rwfr

Cost/Rwfr

1

Feeds

_

_

80000

2

Water

100m3

112

11200

3

Labor

_

_

35000

4

Concentrated feeds

_

_

100000

Total

226200

6.6. Other expenses

SN°

Items

Number

Price/Unit/Rwfr

Cost/Rwfr

1

Purchase of Piglets

40

20000

800000

2

Medicine

_

_

100000

3

Vaccination

_

_

30000

4

Transport

_

_

60000

5

Communication

_

_

15000

6

Watchman

2

15000

30000

7

Caution money

_

_

50000

8

Veterinary

1

40000

40000

9

TVA 18%

613746

10

Conception cost 10%

340970

11

Unexpected 10%

340970

Total

2420686

6.7. Total Budget

N°

Type

Total cost/Rwfr

1

Land Purchase

650000

2

Fencing the land

181500

3

Building

1258000

4

Piggery farm equipment

77000

5

Feeding

226200

6

Other expenses

2420686

Total

4813386
VII. MONITORING AND EVALUATION
According to plan activities, profit is available through efficiency work whereby pork and manure will be sold with different Boucher's and farmers. Because of different services surrendered to various people the project is totally expecting to reduce poverty while increasing pig production.
In addition to knowledge of keeping pigs will be acquired whereby every one who wants to visit the farm will be allowed to visit it.
The project is composed of:
The general assembly
The executive committee
The audit
The counselors
The assembly is composed of all umbrella membership and founder membership.
The total members of this project are 10 including:
It includes:
Chair person
Vice chair person
Secretary
Treasurer
This coordinates all activities carried out within and outside the project.
The audit is composed of 3 auditors who are responsible for auditing the budget and the chaise of the project. These are qualified people in finance and accounting. They supervise the entry and exit of the funds; it is composed of 2 men and 1 woman.
These are responsible for control any error that may exist in the dynamic of the project. They are 4 including 4 men who are also qualified. The above organization indicates that the project has adequate administrative and technical to carry out the work of rearing pigs.
If the project is financially and physically stable the general objectives will be fulfilled; and if the amount of fund required is available a number of membership project will be able to do all activities governing the project.
Therefore in terms of finance this project is stable because the sources of funds are visible. It has also young men and women which indicate that the project is physical stable.
A female pig produces 2 times a year; it can produce 10 to 15 piglets; it takes 3 months for a female pig to produce. In order to know the interest of the project for 3 years, the following calculation will give the estimation profit for pig production.
First year of production;
Profit = Total revenue – Total expenses
Therefore: 1 male pig copulate 20 females = 2 males pigs/40 females
Number of females produce = 40 pigs – 2males = 38females
1 female produces 10 to 15 piglets
38 females produces = 38 x 10 = 380 piglets/3months
After 3 months piglets are to be sold

Each piglet costs = 25'000 RWF
Therefore total sales = 25'000 RWF x 380 = 9'500'000 RWF
Total sales per year = 9'500'000 RWF x 2 = 19'000'000RWF
Profit = Total revenue – Total expenses
Profit = 19'00'000RWFR – 4'705'386RWFR = 14'294'614rwfr
Second year

Profit = Total revenue – (land + purchase of piglets)
Total expenses = Total budget – (land + building + purchase of piglets)
= 4'705'386 RWF – (650'000 + 1'150'000RWF + 800'000 RWF)
= 2'105'386rwfr
Profit = Total revenue – Total expenses
= 14'294'614RWF – 2'105'386RWFR
= 12'189'228RWFR


Third year
Profit = Total revenue – (land + purchase of piglets)
Total expenses = Total budget – (land + building + purchase of piglets)
= 4'705'386 RWFR – (650'000RWFR + 1'150'000RWFR + 800'000 RWFR)
= 2'105'386RWFR
Profit = Total revenue – Total expenses
= 14'294'614RWF – 2'105'386RWFR
= 12'189'228RWFR
Net profit in three years = 14'294'614RWFR+12'189'228RWFR +12'189'228RWF=38'673'070RWFR
X. ANNEXES
10.1. Calendar of activities

1st YEAR

MONTHS

ACTIVITIES

DAYS

1

Purchase of land
Find workers
Fencing the land

1
5
15

2

Building piggery houses

25

3

Purchase of piglets
Arrival of piglets
Feeding

5
5

4,5,6

Feeding
Feeding
Copulation
Curing

60
30

7,8

Giving birth
Caring young ones
Feeding
Curing

30

9

Giving birth
Caring young ones
Feeding

30

10

Feeding

30

11

Selling manure
Selling young piglets

30

12

Evaluation & make budget for 2nd year

25

2nd YEAR

1,2,3

Starting the new year
Executing the project
Feeding giving birth

80

4,5,6

Feeding
Caring young ones
Selling young ones

90

7,8,9

Feeding
Copulating
Giving birth

90

10,11

Caring young ones
Preparing budget for third year

60

12

Evaluation make

20

3rd YEAR

1,2,3

Starting 3rd year
Executing the project
Feeding

4,5,6

Feeding
Caring
Selling young ones

7,8,9

Feeding
Copulating
Giving birth

10,11

Evaluation

12

Evaluation
Deciding (continue or stop)
N.B: Feeding is continuous activities as well as curing.
10.2. Map of Rwanda Sector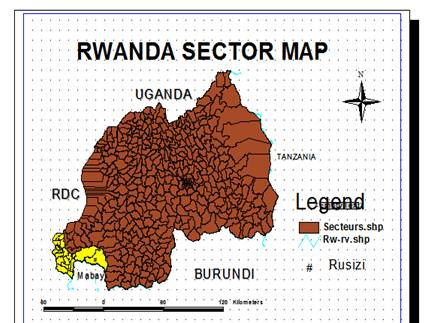 Rusizi sectors where Bweyeye is located are mentioned by yellow color.
10.2.1 Rusizi sectors and their names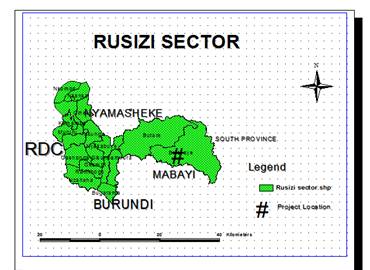 Bweyeye sector where the project will held with #sign shown to the Map
---
Follow-up of the project
TRIMESTRIAL REPORT PROJECT PIG FARM 02/07-10/9/2010
NO
Article/Activity
Material
Amount
Unit price
Total
Evaluation
1
Feeding
Concentrated feeding
maïs, rice flakes,animal rest waste
3kg/j/big*25/x4=
2400kg
60rwfr
144000
Very good
Follage
ff
80000rwfr
80000
Very good
S/Total
224000
2
Medication
Antibiotics
oxytetracycline20%
1/2 of 4 dozen
2400rwfr
9600
Very good
Tetracycline 1%
1/2 cartons of 25
2300rwfr
2300
Very good
oxy vit 100g
10
2300rwfr
23000
Very good
Sulfamides and Anti Diarrhea
Exadine
25 comprimés
600rwfr
15000
Very good
Antiseptic
Iodine tencture
2 liters
2500rwfr
5000
Very good
Antipyretiques & infection minimizers
Colvazone
4 dozen
3500rwfr
13500
Very good
Hormones
Oxytocine
2 flacons
7600rwfr
15200
Very good
Anti parasites
Olymicide 1gr
50 bolus
350rwfr
16500
Very good
Strengtheners
Lick block 2kg
10
3000rwfr
30000
Very good
S/Total
130100
3
Material for the farm
Buckets
plastic
3
2200rwfr
6600
Very good
Brushes
brand Kiaka
1
2500rwfr
2500
Very good
Jericans
plastic
2
1100rwfr
2200
Very good
Table
wood
1
3000rwfr
3000
Very good
Share
wood
1
2500rwfr
2500
Very good
Tablet
wood
1
1500rwfr
2500
Very good
Control register
1
1800rwfr
1800
Very good
Cards feeding for the piglets
100
50rwfr
5000
Very good
Bics
1/2 pak
100rwfr
2500
Very good
Alimentation cards
100
50rwfr
5000
Very good
Note book
2
500rwfr
1000
Very good
Oil point
1
2800rwfr
2800
Excellent
S/Total
37400
4
Uniforms
Boots
3
4000rwfr
12000
Very good
Aprons
2
7500rwfr
15000
Very good
Pants
1
10000rwfr
10000
Very good
S/Total
37000
5
Construction court
1
30000rwfr
30000
Very good
6
Salaries
Guard
3 months
15000frw
75000
Very good
Veterinary
3 months
40000frw
120000
Very good
S/Total
195000
7
Transport & Communication
3 months
1000frw
30000
Very good
Total
683500
In the period of 02/07 till 10/09 we have spend the amount of 683 500 FRW. Probably you think we have spend a lot on feeding and medication.
This is mainly due to the climate circumstances. It is an unexceptional long dry season and diseases amongst the animals. Therefore we have taken the needed precautions to protect the farm by providing uniforms for our workers and by giving concentrated feeding to our animals, to avoid contamination of the animals by diseases coming from other farms.
Conclusion: We can state that our way of working is successful. All sows have been covered. So 23 out of 23 sows will give birth during the months of November, December and January.
At that time I'll send you a next evaluation.
---
December 2010

Quarterly report about the evaluation of the project
This report covers the meetings of November 17th 2010, December 6th 2010 as well as the meeting held yesterday to evaluate the evolution in the "Pig project" financially supported by Vleugels van Hoop vzw, as well as to follow up on decisions taken in the lasts meetings. On the agenda of the last meeting we noted down following points:
Evaluate how 'healthy' the "Pig project" is.
Increase the capacity of the farm, develop new activities, as agriculture, aquaculture, bee hiving and protecting the environment.
Efficient steering of the "pig project".
Evaluate the use of the funding by the vzw.
Varia.
Agenda point 1: Evaluate how healthy the "pig project" is
We exchanged thoughts about the live of the animals in general. There are negative but also positive remarks:
Sows and piglets are loosing weight because of insufficient feeding and bed quality of the feeds. This mainly because of the failure of the farmers.
The irresponsibility of the veterinarian who is supposed to do follow-up on the farm, causing the failure of the farmers, bad use of the medication on the farm and rivalry amongst the farmer and pig holders who conspire together against the vet.
A considerable amount, as shown in the table below, is spend monthly on feeding and security of the farms.
Abortion, early birth giving, stillborn piglets because of all kind of faults and the quarantine.




Activity

Type

Ration

Amount

Unit price

Total price

Feeding

Concentrated feeding

3kg/day/animal

75kg/day

200rwf

15.000 rwf or 450.000 rwfr / month

Non-concentrated feeding

4kg/ day/animal

100kg/day

60rwf

6.000 rwf of 180.000 rwf

Feeding plants

ff

ff

ff

Responsibility of the pig holders

Security + Feeding

-

-

2 guards +
veterinarian

15000fr+40000fr

70000frw
P.S : After discussing this topic, needed decision are taken to control the monthly expenditures and the general health on the farm:
We'll look for an extra employer to assist the 2 others on the farm. Somebody will be employed on trial basis during December and January.
The animals will be distributed amongts the members of the cooperative. The pigs will be kept till the beneficiaries have signed the agreements. This has to be finalised in January. 2 or 3 animals will stay on the farm to solve the earlier mentioned problems.
The cooperation with the current veterinarian will be stopped. We try to set up a cooperation with a vet from the Bweyeye sector.

Agenda point 2 : Increase the capacity of the farm, develop new activities, as agriculture, aquaculture, bee hiving and protecting the environment.
During this topic we discussed all incomes which the cooperative could generate, instead of only concentrating on the pig holding:
Agricultural activities,
aquaculture,
bee hiving,
protecting the environment.
In this context we started to plant feeding plants, shrubs (carriandra sp) and passionfruitplants.
We also appointed people who are responsible for the project and will garantuee the follow up. They also have to execute the decisions taken during the meetings.
Executive committee

Functions

Names

Education level

Predisent:
Vice president:
Secretary :
Accountant:
Treasuror :

ZIRANDORERA Modeste
KOMEZUBUTWARI Bienvenu
KUBWIMANA Angeline
KUBWIMANA Damien

KWIZERA Phoebe

A2
A2
A2
A2
A2

Advisory committee

Functions

Names

Education level

President:
Vice president:
Secretary :

NTIBAZIYAREMYE Martin
MUSABYIMANA Anaclet
IRAMBONA Daniel

P8
P8
A0
The councellors
HABINSHUTI Thomas
TWAGIRAYEZU Joseph
KANYABASHI Thomas
NKURIKIYIMANA Ladisilas
Agenda point 3 : Efficient steering of the "pig project"
Here we talked about:
The usage of the domain of the farm to solve the problems in feeding, as well as the eventual problems who could pop up base don taken decisions.
Agenda point 4 : Evaluate the use of the funding by the VZW;
In this part I tried to clarify the financial contribution of the vzw in this project as summarized in the table below:
Funds in €

Exchange rate RWF

Funds in RWF

Invested in:

5,266.12

765.3

4, 030,199

The construction of the farm;
The purchasing of the animals;
Purchasing the feeding;
Purchasing the medication and other material for the farm;
Other expenses.

350

785,71

275,000

Salary for the employers

-

-

917.400

Agriculture projects
Agenda point 5: Varia
Here all members could share their opinio non the way we touched on all ideas and how to keep the unity in the cooperative. Also the evolution, the increase in pigs and the use of the products (organic marsh) was talked about.

Pigs

Number of births

Dead animals

Surviving animals

Death cause

Prevention

Observation

Box 1-11 left

31

20

11

stillborn
poor large wean
death after 3 days
abortion

Protection of the environment of the farm

Moderate

Box 1-12 right

40

17

23

stillborn
poor large wean
death after 3 days
abortion

Idem

Idem
P.S : During the period of quarantine 2 animals (a sow and a boar) died because of negligance of the employers.
---
May 2012
Images
---
November 2012
Pig breeding in the farmhouse of Bweyeye

Production of 40 piglets divided among 20 families and orphans-family heads
20 piglets sold for the benefit of the surrounding population (other than the suffering families)
Pay contribution health insurance for 45 persons spread over 12 families
Pay school fee for 3 pupils

The climate change at the beginning of the project, causing the death of the sows brought us to the idea to sell all the pigs and to switch to cows. Thanks to the council of Vleugels van Hoop, however we managed to resist this risky idea, soon we switch over to the project beekeeping
---
Pictures
Clic here to see pictures of the preparation of the field
GATETE Eustache, responsable for the project.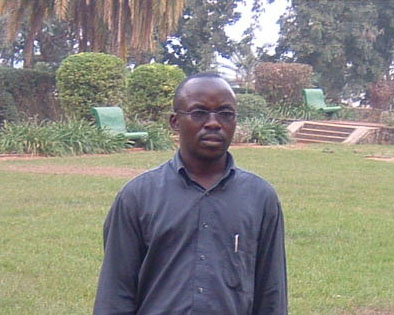 ---
September 2011
I've been to Bweyeye to prepare the Agricultural season 2012.
We have been able to harvest an area of 1ha of corn.
Thanks to the support of 'Vleugels van Hoop' we can hope on a successful realisation of both projects.
Related to the pig project we can report an increase of 32 piglets.
Related to the agricultural project we can fulfil the food request of the beneficiaries.
The problem of the food for the pig is resolved.
Eustache Gatete
---