Compostella 2011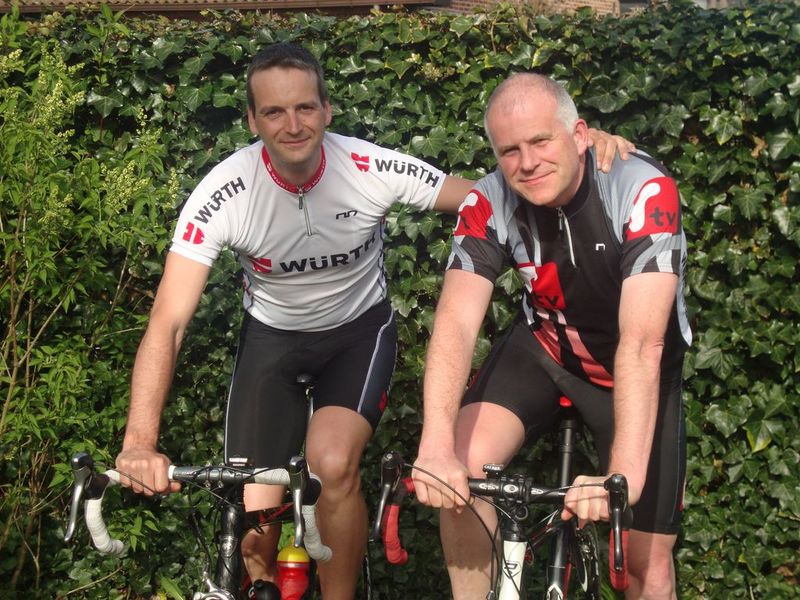 2 lively guys, Guy en Patrick, will bike the trip from Vosselaar to Compostella between July 2nd and 21st 2011 and let sponsor themselves for the benefit of the projects of Vleugels van Hoop.
They introduce themselves:
I'm Guy Van Goubergen (left) and together with my wife Els and my two adorable daughters Carolien en Anne-Sophie I live in Vosselaar.
I'm bike devotee and did already lots of kilometres on my own to work or in our neighbourhood.
I always had the dream to once bike to Compostella.
I knew already the organisation 'Vleugels van hoop' as my dear mother-in-law (grandma) is member of the board.
On a cosy winter eve the final plan was developed.
I would bike for an association for the good aim.
Of course my wife came up with the concern: 'You can't do this on your own he!'
So i started to look around for somebody who wanted to start this adventure with me.
It had to be someone who was used to biking or somebody who wanted to prepare himself very actively.
And of course there has to be a 'match', to bike together for more than 3 weeks.
So i started the search for a companion. Somebody not afraid of taking challenges, someone with whom I felt a 'match' etc. In a way this was very easy to me. At that moment I could only see 1 person able to fullfill the expectations.
The only thing he had to do was to say 'yes' on the question to join. And luckily he did that. Our Patrick immediately was enthusiastic which was a big relief for me. Otherwise the Compostella project would be frozen for some years.
The rest is probably known to everybody : training, gathering to prepare the route and of course a lot of laughter !!
Now you have a better picture of me.
Guy
I'm Patrick Vermeulen (right) and live in Vosselaar with Chris and our 2 children Anil and Nissy. When Guy came up with the plans to bike to Compostella I asked whether I could join him. Guy was immediately enthusiastic and we started the preparations.
I also believe that the link we made with the association 'Vleugels Van Hoop' is very important. If this action can improve life quality of people it will be worth all the effort. I'm also engaged in 'Oxfam wereldwinkel Vosselaar vzw', 'Vosselaar Fairtradegemeente' and the 'Vosselaarse adviesraad voor ontwikkelingssamenwerking.'
Patrick
COMPOSTELLA HERE WE COME!!!!!
---
Follow-up of the action
Images
---