PROJECT PROPOSAL FOR EQUIPPING OF CRVO HOME WITH BASIC NECESSITIES
2013 JANUARY
EXECUTIVE SUMMARY

Improving the sanitation of Children's Rescue Voluntary organization (CRVO) home in respect to the public health standard with basic facilities' is proposed.
CRVO is a child centered project which aims at restoring the lost hope of the vulnerable children whose hope has been lost due to physical, psychological and emotional tortures. CRVO DEALS WITH CHILDREN AGED FROM WEEKS TO 17 YEARS BOTH GIRLS AND BOYS. Having been enabled by wings of hope association to purchase a home for the homeless children under CRVO, It has been deemed necessary to improve the facilities by increasing on the beds, mattresses, blankets, to put in place a septic plastic tank which will help in reserving water.This is seen as a basic need since we depend on piped water which is ever on and off due to power shut down.
Electricity is one of the biggest challenges we have because we are always faced with load shedding which largely affects the smooth running of the home because we embark on using candles which is not safe for children. Therefore solar energy power installation in the house is looked at as the best alternative and cost effective facility. we too wish to have a keyboard as a musical instrument to enable our children keep lively in music hence acquiring such skill would too enable them to have life since music is simply defined as life. once such facilities are put in place they will add value to the conducive environment hence putting to an end lack of water and electricity for power. This proposal is expected to cost to the tune of six million Uganda shillings(6000,000=)

MANAGEMENT

CRVO is managed by the general assembly as a supreme governing body.it has a board under which the administrative body runs its activities.
PROBLEM STATEMENT

The proposed facilities once done will help the agency to improve the children's environment, that will enable them to have a good life at the end. Hence enjoying life to its fullness regardless of their untraceable misearable backgrounds. To have solar power energy installation will too minimize on the monthly bills since electricity tariffs increased from 200shillings to 600 hundred shillings per unit.with this solar expenditure on electricity will be no more for some good years provided a good quality is bought.

TARGET GROUP

The target group will mainly target the disadvantaged homeless children under CRVO.

Goal: To create a conducive environment for CRVO children.

OBJECTIVES

To ensure that the CRVO children stay in a conducive environment
To provide security for CRVO children
To help children forget the past hardships hence restoring the lost hope.


JUSTIFICATION OF THE FACILITIES

The selected proposal is seen to be the most urgent one especially in terms of improving on the sanitation and health of children's living environment. children who share beds, beddings are at high risk of getting skin diseases. so once more beds are purchased it will address the problem. children in the home need reading materials for different subjects like English, mathematics science and geography text books as well as reading cards this will help in having a talking educative environment.
TIME FLAME

The proposal once funded will start immediately because there is need of such facilities since children are already in the same house. These facilities are hoped to be in place within a period of one month from the date of approval

EXPECTED OUTPUTS

Children under CRVO will enjoy full existence of the facilities
The lost hope of children will be restored
The electricity will be minimized and children will have light all the time.
Children will access water all the time since during shortage of water the reserved tank will serve the purpose
Reading culture will be instilled in young children while at home
Children will no longer walk long distance to look for water.

IMPLEMENTATION STRATEGY

With the help of administration and staff, and technical service providers we highly believe that the proposal will be implemented in the most transparent manner for its success.

PROJECT BUDGET
| ITEM | QUANTITY | UNIT COST | TOTAL |
| --- | --- | --- | --- |
| Solar energypower | 1 | 2000000 | 2000000 |
| Labour for installation | 1 | 300000 | 300000 |
| Twin beds | 5 | 120000 | 600000 |
| Mattresses | 10 | 50000 | 500000 |
| Pairs of sheets | 10 | 12000 | 120000 |
| Septic plastic tank | 1 | 1000000 | 1000000 |
| Transport | | 100000 | 100000 |
| Metallic watertank stand | 1 | 250000 | 250000 |
| Blankets | 10 | 24000 | 240000 |
| Keyboard | 1 | 500000 | 500000 |
| Reading cards | 15 | 2000 | 30000 |
| English text books | 10 | 120000 | 120000 |
| Mathematical text books | 10 | 15000 | 150000 |
| Science | 10 | 15000 | 150000 |
| Geography | 10 | 15000 | 150000 |
SUSTAINABILITY

Intensive supervision and monitoring by the staff and the executive director will lead to its sustainability other installed facilities as well as other stake holders
Support supervision and guidance of management committees by the administration of the CRVO.
Training of CRVO children on how to use and protect facilities installed.

CONCLUSION AND RECOMMENDATION

The organization has hopes that once the proposal is approved children will grow in a very conducive safer environment.
---
Follow-up of the project
Date: May 15th 2013

Name project: Project 40: CRVO - Equipping the house

General status:

The project started well after receiving the funds in the middle of January.

Progress since last status report:

All materials are purchased (beds, water container, solar panels and keyboard) and the water tank and solar panels are installed properly.

Financial status:

The full budget, being 6.210.000 Uganda Shillings, have been used for purchasing and installing the equipment and all receipts have been send.

Problems/concerns:

None

Attached documents (pictures, reçu's,…):

All receipts and some pictures of the purchased goods are send.
---
Images
Clic on the image to see more pictures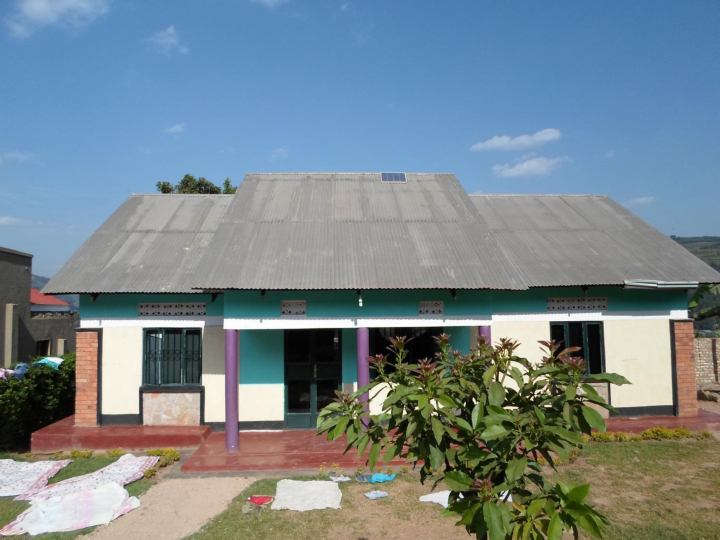 ---