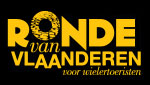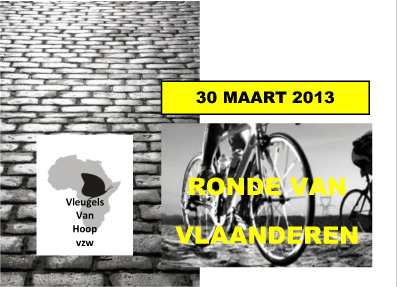 Ronde van Vlaanderen 2013
Almost reality! Thousands of cycling tourists will get to know the 'flamish hills ' during the tour of Flanders for cycling tourists on March 30th 2013.
At least two brave men will ride this tour of Flanders again for charity and to support the projects of ' Vleugels van Hoop'!
Dirk Duquet from Sint-Martens-Latem and Guy Van Goubergen from Vosselaar have their heart 'in the right place'. Now only two pairs of good legs to make this day a beauty! Appointment at the finish in Oudenaarde!
Do you want to support them and our projects in Central Africa:
account IBAN BE88 0015 3001 4241-BIC: GEBABEBB
You will receive a tax certificate starting from € 40.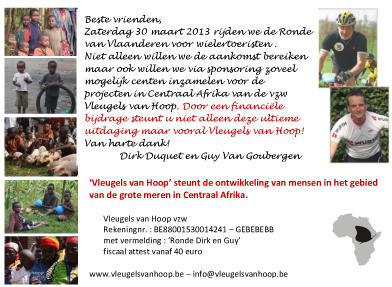 Top
---
Report of the action.
Ronde van Vlaanderen 2013!

Finally, after a long and sound preparation, as well on the sponsor search as the physical training, 3 sportive people Dirk, Paul and Guy are ready to leave at 6 h 30 in Bruges. Yes, they all 3 wanted to ride the full 260 km!
Through the icy cold weather, on the flat roads (still), with a super hard wind, they reached the first stop point where we (Ingrid, Anne, Els, Carolien, Anne-Sophie and myself) were ready to supply them a first time. A short while hiding for the wind behind the facade of a house, to refill the drinking bottles and to eat a banana. With full good spirit up to the hardest piece of the ride now, the treacherous slopes.
At the next stop the supporters' team was strengthened with Bernadette, François, Albert and Betty. Anne-Sophie screamed to motivate all cyclists and Albert applauded all day, to encourage the cyclists and to get to warm hands.
In the "Koekoekstraat" in Horebeke Ninke and Bert were on time to extra encourage our cyclists. It was still very very cold and the fatigue began to play its role. Still a banana and a piece of rice cake? Not giving up and. ... further they drove! On the Kruisstraat in Ronse, Lut gave an extra push and from then on it was "only" the Kwaremont, Paterberg, the Berendries ... ... whew, whew ..... and keep on pushing! The end came closer and closer.
In Oudenaarde all of us were anxiously waiting for "our" brave cyclists. Would all 3 make it to the finish??
YES THEY DID !!!
Exhausted but very happy, ice cold but with a very warm heart for the people of Africa, Dirk, Paul and Guy did the full tour for Vleugels van Hoop.
Thousand time Thank you to all of you who, with your financial support, gave our cyclists wings in this harsh weather!
Ingrid, Bernadette, François, Lut, Albert, Betty, Anne, Els, Carolien, Anne-Sophie, Ninke, Bert and Hilde, the supporters' team on site.
Top
---
Images
Top
---