Equipping Kitchen in the centre for handicapped children and youngsters in Cyangugu/Rusizi - Rwanda
CENTRE ST FRANCISCUS OF ASSISIE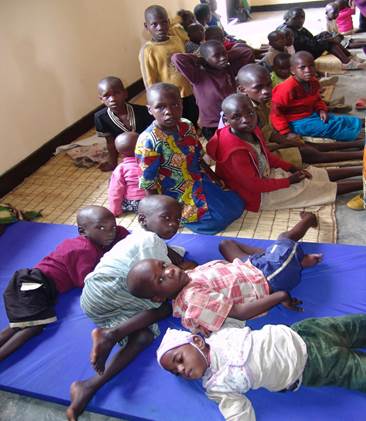 Legal status of the congregation
The congregation is recognized by the State since 1952, as an independent institute according
diocesan right, with mother-house in Belgium (1819). The congregation has settled in Mibilizi
Cyangugu , Rwanda in 1936.
Exposure and activities
Help sick people and people who became marginal in their dignity (orphans, handicapped
people and elder people)
Offering a frame for children in the primary and secondary school and vocational education
Be responsible for sheltering places
3 secondary schools:

Nyamasheke (Mataba), Shangi and Shyorongi

3 sewing workshops::

Kitabi, Rusizi and Muganza

3 shelters for handicapped children and youngsters:

Rusizi, Kitabi and Karambi

2 reception centres:

Cyangugu Rusizi and Kicukiro Kigali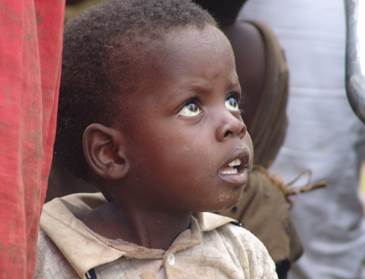 Mission of the Centre
Consultation, medical care and education
The centre was started to help handicapped children and youngsters to become independent,
physical and financial
Promote social, educational and economical integration
They get vocational training in the centre: sewing and knitting, brodery and beading
Handicapped children and youngster get better prepared for the future.
The centre allows us to offer better help to handicapped people
The centre allows us to better help people who are humiliated because of their life circumstances.
We can better follow up and evaluate their health status.
The centre allows us to help more people and offer them the needed care.
By re-education we try to give them an opportunity of improved social integration.
Help them to improve their quality in life
Improve affection and recognition of the family of handicapped people.
Encourage participation in social life
Raise awareness with the parents about the rights and respect for handicapped children.
Services offered by the centre
| | |
| --- | --- |
| Consultation | Post-surgery follow-up |
| Physiotherapy | Follow-up cured children |
| Redirect people (to hospitals or specialized centres) | Learn the caregivers the exercises they need to do at home |
| Correction plaster | Hospitalisation and advising |
Literacy
Vocational training: Sewing and knitting, wickerwork (baskets, mats), brodery and beading

Illnesses which can be treated in the centre
| | |
| --- | --- |
| Motoric disorders and brain diseases | Aftercare for meningitis |
| Mongolism (trisomie 21) | Post–traumatic aftercare |
| Post-surgery care | Paraplegia of para paresis |
| Aftercare with burn-wounds | Rheumatic diseases (lumbalgy, dorsalgy) |
| Hemiplegic or hemi paresis | Arthrogrypose |
Activities planned for 2012
Host more handicapped children and youngsters
Start organisations and help funds for parents of handicapped children
Further educated the caregivers to ensure home care
Increase the number of youngsters learning a profession
Procedure
People who are hospitalized stay for 2 months in the centre. Afterwards they return
home and come to the appointments in the centre, with the physiotherapist, for further
treatment.
The physiotherapist is twice per week in the centre, to be consulted and to offer care to the children.
A physiotherapist is permanently connected to the centre, another one Works part time as the centre does not have sufficient funds to offer a full time contract. The caregivers make sure that needed exercises are done at home.
Necessities to insure the good care of patients in the centre
à Kitchen equipment
| | |
| --- | --- |
| Purchasing stove | 784.300 rwfr |
| Big wall rack | 80.000 rwfr |
| Kitchen table | 60.000 rwfr |
| 10 cooking pots | 120.000 rwfr |
| 20 serving trays | 160.000 rwfr |
| 30 plastic plates | 15.000 rwfr |
| 30 spoons, 30 forks, 30 knives | 180.000 rwfr |
| 20 scoop spoons | 24.000 rwfr |
| 30 plastic cups | 12.000 rwfr |
| 1 wheelbarrow | 45.000 rwfr |
| 5 trash bins | 17.500 rwfr |
| 15 scraping tools | 37.500 rwfr |
| 15 brushes | 45.000 rwfr |
| TOTAL | 1.580.300 rwfr |
Top
---
Follow-up of the project
General status: Good, well equipped with all the needed stuff for the kitchen and the refectory.

Progress since the status report:

The construction of the modern cooking stove 'Rondeza' is completed, the patient minders are preparing the meals, the refectory has seats for 50 handicaped people.

Financial status:

Available budget: € 2000 i.e. 1.580.300 RwFr
Expenditures: 1.580.300 RwFr
Balance: 0

Problems/concerns:

Materialistic and intellectual poverty, lack of medical Insurance, lack of water for the handicapped people, insufficient physiotherapists.

Top
---
Images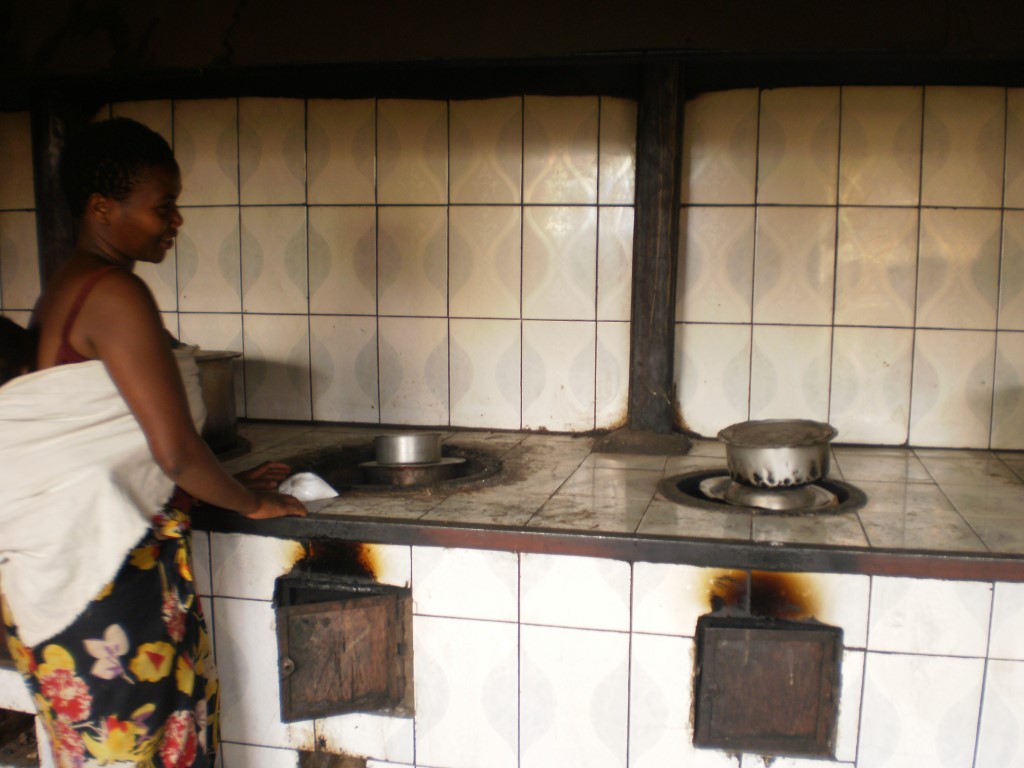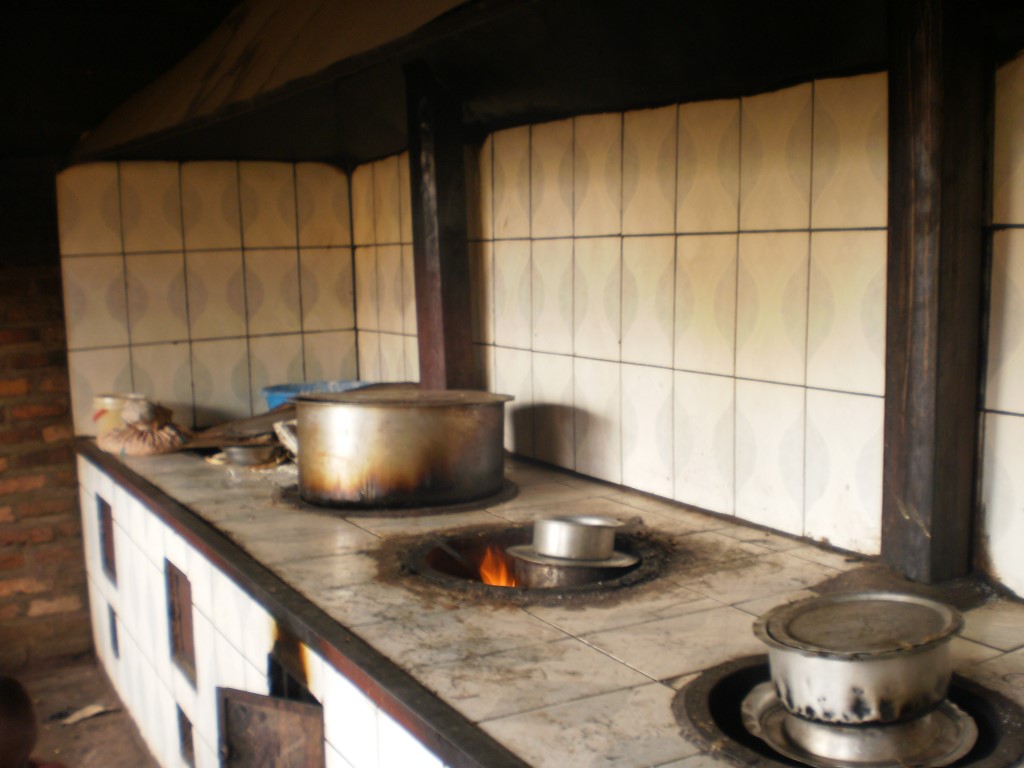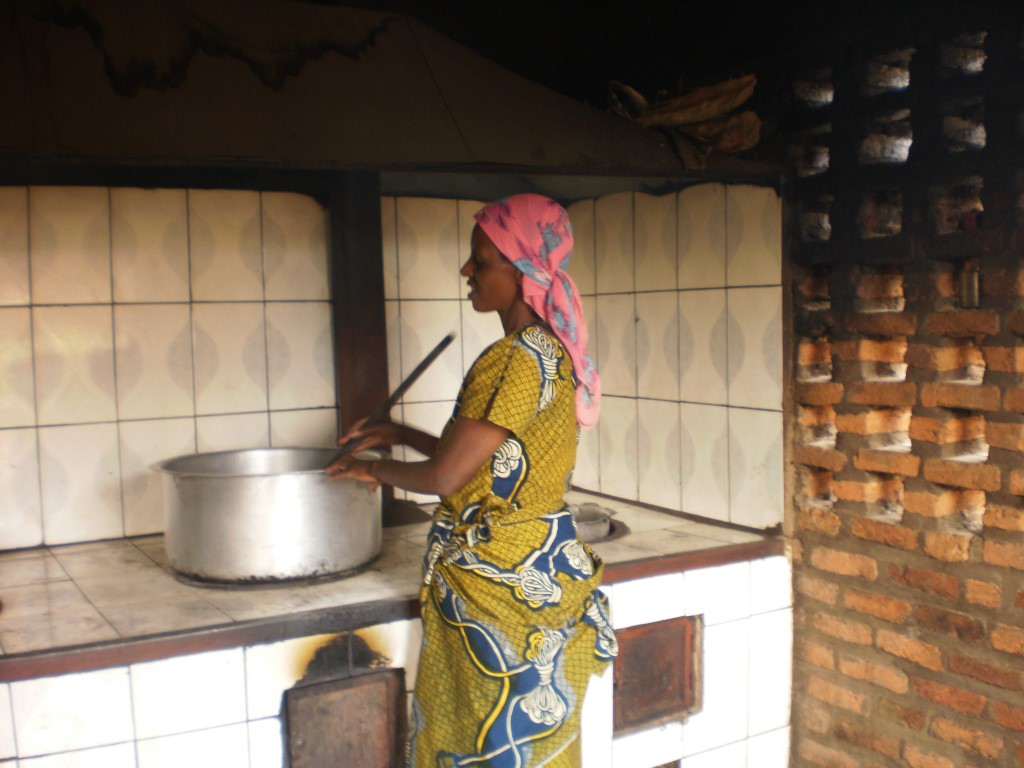 Top
---