Project: computing equipment
Motivation of the project
The socio-cultural centre Twese Hamwe, true to his mission to give a second chance to young people who do not have the opportunity to go beyond the sixth grade, offers its pupils a 2 month refreshment course (see report 2011) before they start with the domestic training. In these lessons the young people get to learn some principles of information technology.
Last year we had about 3 discarded computers for one section domestic economy of 15 young people. This year, we had 3 sections of more than 50 students. In this case, 3 computers are inadequate.
Computer equipment
With 10 computers and splitting up the pupils into 2 groups, 1 computer could be used by 2 to 3 pupils. This may lead us to an improvement in the quality of the education system and gives the pupils the opportunity to practice more.
Furniture
10 computer tables en 10 chairs, each pair at 60.000frw.
Teacher
We would organize a course of 3 teaching hours per week during 9 months. The wage for the teacher is 100,000 frw/month.
Budget
Item

Amount

Unit price

Total price

Computers

10

270.000

2.700.000

Tables

10

50.000

500.000

Chairs

10

10.000

100.000

Teacher

9 months

100.000/month

900.000

TOTAL 4.200.000
This is : four million two hundred thousand Rwandese frank.
= 5176 euro (811,4 RwFr = 1 €)
Remarks
In anticipation of the purchase, the 3 second-hand computers will this year only be used in the section domestic economy (20 young people). For the others it's waiting for better times.
Since our rooms are multifunctional, tables can serve as cabinets when lessons are over.
---
Follow-up of the project
On March 6 2012 the Socio Cultural Centre Twese Hamwe received 5.175 Euro from the association « Vleugels van Hoop ». This budget was used for:
1° Ordering computers
On 10/03/2012 we ordered the computers. They were delivered on 16/03/2012. See invoice N°1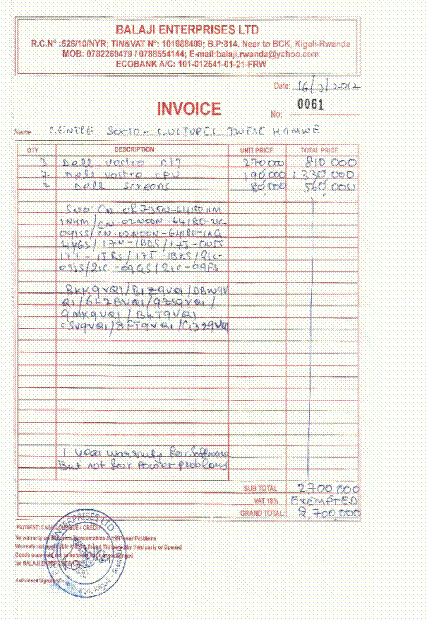 2° Pre-payment

On 14/03/12 we ordered 10 tables and 10 chairs.
For this we did a pre-payment of 300.000 RwFr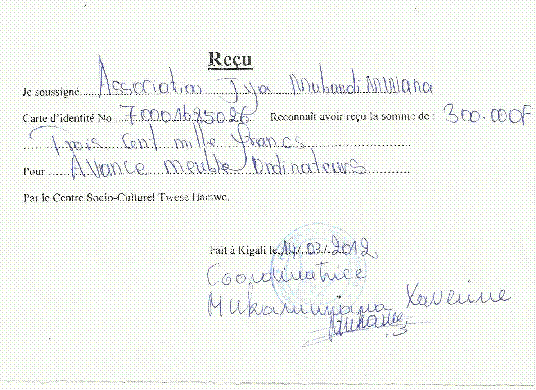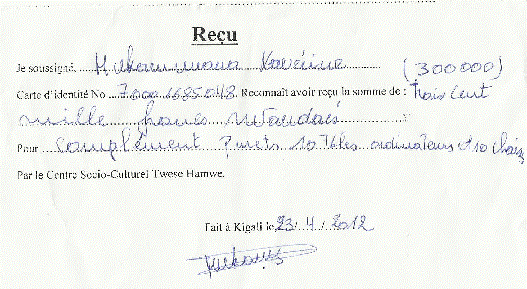 3° Delivery of 10 tables and 10 chairs: additional invoice 300.000 RwFr
4° Installation of 3 computers :

3 computers were installed and the children started to use them on Friday 4/5/'12 (3 new and 3 older computers).
What a joy !
The other 7 (new) computers will be installed after improving the electricity network.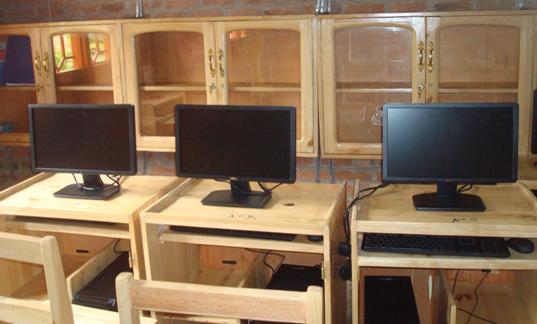 P.S. The Socio Cultural Centre Twese Hamwe takes this opportunity to again express its gratitude towards Vleugels van Hoop for their continuous support of our projects.
---
Images
See above
---