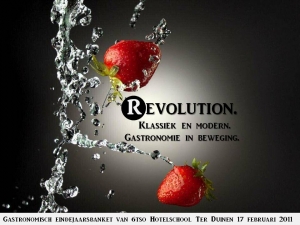 Hotel school 'Ter Duinen' – Koksijde 2011 (http://www.banket6t.be/)
This is the theme for the initiative of the pupils of the 6th year of technical secondary school 'Ter Duinen' as they strive to finish their schooling.
They formulate it as follows:
"To classical dishes, such as the ones featured in Auguste Escoffier's Bible, we add a quirky and modern touch. Since the pase century, gastronomy has undergone a staggering evolution.
We wish to bring this culinary development to our guests' dinner plates in a refreshing way.
The room, decorations, lighting, Music and wine selection are all in line with this evolution.
We, ourselves, are responsible for the entire initiative, from idea to realisation.
Also, we support 'Vleugels van Hoop' with our banquet.
This is an organization which helps people through micro-projects in the Great Lakes Region (Central Africa) and, by doing so, has the ability to offer them better opportunities for the future.
With your kind support, we can make this project into an unforgettable experience and bring it to a successful end.'
The banquet takes place on the 17th of February 2011, at 19h00.
---
Follow-up of the action
---