Canalisationproject over a length of 120m (60m x 2)
Since our buildings tend to collapse because of the erosion, and because of the depth of the creek becoming 3m at some spots which is dangerous to our kids, we opted to start a project with less costs than the original one.
We will use eucalyptus beams to support a plastic screen to in that way hinder the water to trickle in the soil (see pictures). This system would last for 5 to 6 years. Because of this, without too much damage, we can wait for a permanent solution.
Budget for the canalisation
Nr

Description

Amount

Unit price (RwFr)

Total price(RwFr)

1.

Beams

400

2.000

800.000

2.

Damsels

65

3.500

227.500

3.

Nails

50 kg

1.500

75.000

4.

Plastic screen

24 rolls

40.000

960.000

5.

Soil

20 trucks

25.000

500.000

6.

M.O

______________

_____________

600.000

TOTAL 3.162 .500
It is three millions one hundred sixty-two thousand five hundred Rwandese francs, or four thousand two hundred and twenty euro (€ 4.220).
---
Canalisation 'Twese Hamwe' Rwanda – Kigali - december 2009

The works were carried out over the last months and we could admire the splendid result. Here pictures say more than words.
---
Before, during and after works.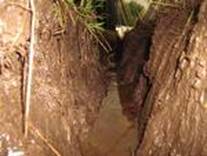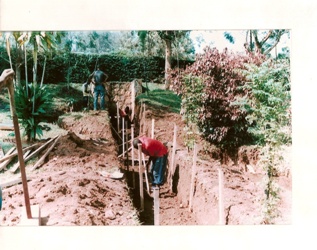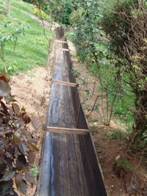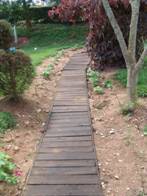 ---