't Blokje Wuustwezel 2009
As an introduction to this action, the following text has been copied from 'Blokkertje', the newspaper of GLS 't Blokje in Loenhout.
'This school year, in keeping with tradition, 't Blokje once more links its annual theme to a global project. We chose 'Vleugels van Hoop', (Wings of Hope) a volunteer organization devoted to helping children in Central Africa. Our children have already been introduced to one of its current projects on October 20th. Bernadette, François and Hilde came to talk about a school in Rwanda. During the war, part of the buildings had been destroyed and the girls had to sleep in the classrooms. This way, the classes could no longer serve their actual purpose: teaching.
Meanwhile, the buildings have been repaired (in fact, a new dormitory was built), though they haven't been equipped yet. We would like to help 'Vleugels van Hoop' accomplish that. During the last few weeks, we've been crafting away for the school in Shyorongi. The entire profit made from selling these pieces at our Christmas market will be donated to their organization.
Because the people of 'Vleugels van Hoop' had brought along such an abundance of materials at their presentation and because one afternoon was just not enough to look at all those nice things, Miss Hilde and Miss Denise gladly spent some more time during their classes to further immerse the children in the lives of our African friends.
Musical instruments, toys, small works of art, home appliances and all sorts of pictures were pored over with much curiosity and interest.
During the second semester, our students and teachers will enjoy themselves preparing a musical performance about Africa, the climax of which you can attend on Friday, 28 May 2010.
SONG, DANCE, MUSIC, THEATRE AND WONDERFUL IMAGES WILL GUIDE YOU ALONG THE MANY PEARLS AFRICA HAS TO OFFER. SET THIS DATE ASIDE AND LET OUR STUDENTS SURPRISE YOU!'
---
Follow-up of the action
28.05.2010
Children of 't Blokje go all out
for Children in Rwanda





Once upon a time there were… Subundu and the tree*.
The story of the chatter tree. After a long day all the village people came together underneath the chatter tree to listen to each other's stories.
Today there is… 't Blokje in Loenhout striving for the benefit of vzw Vleugels van Hoop. The children, teachers and board of this 'warm' school organized the close of their annual theme with the performance of this musical spectacle.
After two days of rain, the sun honoured us with its presence on Friday 28 May. The playground was filled with big and small people, who were all very curious. They took their seats in the hall, where the long-anticipated performance would take place.
28.05.2010 – 7.30pm It's finally happening!!
We meet the choir and the musical ensemble. The setting is the savannah with a hut, the ever-present goats and chickens, and a large tree.
The 'chatter tree' makes up the focal point. During the day, underneath this tree, the elderly would seek shelter from the burning African sun. In the evenings, they told the villagers stories of yore. Stories which they in turn had also heard as kids. Together, people listened to happy but also to sad stories. They laughed, they cried.
'Subundu and the tree' is about a young shepherd who acts rather inconsiderately towards his goats and the tree on the hill where he tends his flock, just because he is bored. When the tree ends up saving his life, he eventually learns to respect nature and all living creatures.
It turns into a feast of theatre, song, music and dance. The projection of pictures from 'here in Loenhout and yonder in faraway Rwanda' adds an extra dimension to the performance.
And as is tradition in African stories, you can pass this story on and colour it with your own fantasy and voice.
The preparation of this complex performance demanded months of effort, but this spectacle proved that nothing is impossible when we join forces. The school and its entire team decided to donate the profits of their annual theme to the organization 'Vleugels van Hoop', which will be using them to fund the school project Stella Matutina Kigali in Rwanda in Central Africa.
The handing over of the cheque will take place on Wednesday 23 June 2010 at 11am.

Thank you 't Blokje
Thanks to you a dream becomes reality
* Baranyanka, Eric is the author of this original work. The author hails from Burundi and now lives in Belgium. Every one of his stories is a little gem, which will make young listeners dream. Beautifully and clearly written stories, wonderfully illustrated with pen drawings in mainly earthly shades on paper with a leaf vein print. The cover illustration is equally inviting.

Top
---

The school and its entire team decided to donate the profits of their annual theme "A window to the world" to vzw 'Vleugels van Hoop'.
The climax, on 28 May, was a feast of theatre, song, music and dance in 'Subundu and the tree', which you will have read above.

The handing over of the cheque took place on Wednesday 23 June 2010.
No less than 3,000 euro was raised. It turned out to be a very moving moment. Some were rendered speechless and here and there a tear had to be brushed away. What a tremendous result!

A thank you to the children and their parents,
the members of the Vriendenkring 't Blokje and the teaching staff
who made this dream come true for African children.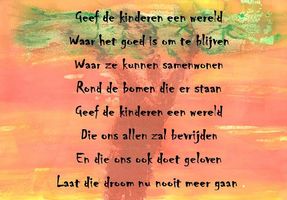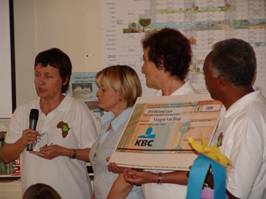 ---
| | | |
| --- | --- | --- |
| | 'Subundu and the tree' | Handing over of the cheque |
---