Newsletter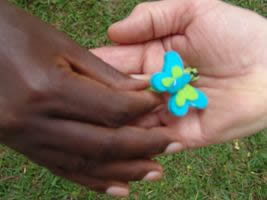 With pleasure we inform you, via mail or email,
with this newsletter about the ongoing projects.
We use this opportunity to SINCERELY THANK all our sponsors.
You offer WINGS to so many people!!
June 2009
INVITATION HEIKENSKERMIS 2009
August 15th 2009 from 17h00 on you're very welcome to participate in our big summer fete in 't Heiken in Moerbeke Waas.
As every year the activities are organised for the benefit of the projects of vzw 'Vleugels van Hoop'.
This year everybody support the project "A roof for the children" in Shyorongi.
About 480 girls students of the secondary school are staying overnight on the domain and go home only on quarterly basis. At this moment 2 classrooms are used as dormitory. With building a big, new dormitory these classrooms will become available for teaching and more space will be offered. This all is not just luxury, but a real must!
The start of the Construction of the dormitories is planned for July 1st. 2009.
Within the huge Construction project 'Vleugels van Hoop' wants to offer the inner arrangements for the dormitory.
If you want, you can contribute to this!!
You can subscribe to the mega-barbecue that day via:
09/346 78 91 Bernadette en François Gacas
09/346 99 23 Betty en Albert de l'Arbre
via mail info@vleugelsvanhoop.be
selling entrancecards: Meester Antoniusdreef nr 24 & nr 3 in Moerbeke-Waas
Please mention name, address, number of persons and age, total amount
Children up to 7 years old: FOR FREE
Children from 8 to 12 years old: € 10,00
Adults: € 15,00

Your reserved tickets will be available at the entrance.

Your subscription is only valid after payment on bank account number 737-0211176-50
of vzw Vleugels van Hoop, with comment "project 2009"
GESUBSIDIEERDE VRIJE BASISSCHOOL HEIENDE
HEIENDESTRAAT 2, 9160 LOKEREN

Tel 09 348 56 34 = Fax 09 339 01 89
www.basisschoolheiende.be
www.kabaolok.be
vbs.heiende.lok@telenet.be
The teachers and students of the Gesubsidieerde Vrije Basisschool 'Heiende' Lokeren wanted to support the projects of 'Vleugels van Hoop' vzw during the Easter period.
The profit made will be fully added to the project "A roof for children".
Therefore we sincerely want to thanks all the people of the school.
It became an action "Children for Children" where this time the small ones (primary school) were taking care for the big ones (secondary school)!!!
---
Follow up projects 'Twese Hamwe'
'Domestic economy'
The 2nd year of domestic economy has started with 18 students.

BIG NEWS:
All last year's students passed and found a job in the meanwhile!
The 2nd official language in Rwanda has very fast and unexpectedly changed from French into English. This causes problems in finding the right teachers. 'Twese Hamwe' was looking for and found a teacher for the English course. An average salary for a teacher is RwFr 70.000 per month (i.e. 89€). € 100 was donated by our people when in Rwanda. After a talk with the teacher it is agreed this is sufficient for the first 3 months.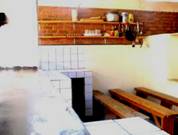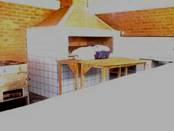 'Green brigades'
The city of Kigali was very interested in this initiative and 'took over' the green brigades. This was locally not well accepted and by now the green brigades are work out of 'Twese Hamwe" again and are asked occasionally by the city council
---
Follow-up project 'Capturing of rain water ' in the primary school of Munyinya
Only 10 months after the start of the project all is operational and we believe this is a very successful project.
Diligently the plantings around the school are sprinkled. Class rooms and sanitary facilities are maintained. Children learn the first terms of hygiene. Hands are soaped and washed. People living close to the school enjoy the overflowing tanks. Gain of time for everyone. There no longer need for dragging heavy jerry cans by the children. They can use that time to study. Mothers and fathers can go earlier to the lands. Placing pipes and tanks, for the capturing of rain water, means a real blessing for the school and the surroundings!! All this became feasible thanks to your help during the past months!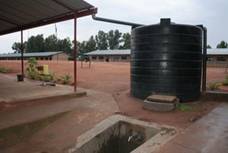 ---
Follow-up project 'Pastures 2008'
During a work visit in May 2009 we could observe that also this project is well finalised by now. The grasses are harvested twice by now and are sold as feed plants to the cattle holders. The profit is again invested.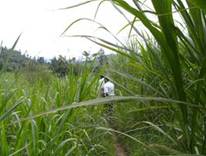 ---

Thank you to so many people who, close by or far away,
likes on the ideas of 'Vleugels van Hoop' vzw and support them.
Do you want to support 'Vleugels van Hoop'vzw?
Bank account number 001-5300142-41
From the bottom of our hearts: THANK YOU!