Newsletter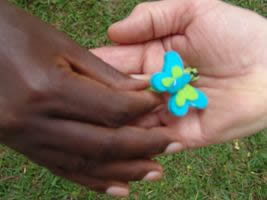 With pleasure we inform you, via mail or email,
with this newsletter about the ongoing projects.
We use this opportunity to SINCERELY THANK all our sponsors.
You offer WINGS to so many people!!
October 2009
SEARCH FOR HELP
To refitting and later on rebuild the maternity in the health centre of Cyangugu were are looking for several things: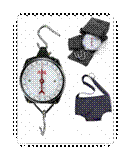 Weighing pants for hanging balance (right below on the picture) for baby's, medical instruments, tweezers, kochers,...
---
Heikenskermis 2009
Were you with us on Saturday August 15th 2009? The sun for sure was!
But far more important: there were so many people on our 'Vleugels van Hoop' = 'Wings of Hope' celebration, under the protection of Heikenskermis in Moerbeke-Waas.

One can't start a barbecue without an aperitif: a fruit juice or kir, some small snacks, something for all kind of wishes.

Transforming balloons in an animal and painting kids faces was Els's activity; because of the warmth not an easy job but nevertheless successful!

During a sociable chat and with the expert service of some "Wings of Hope"-people one shuffled along for the barbecue. And it must be said: it was very nice!

Outside in the sun or in the tent you could enjoy the music of the `Big Band Enter' orchestra: nice, recognizable melodies.

And of course no celebration without a tombola. With lots of "flair" an innocent child hand drew the winning number. Two persons can enjoy some days of holiday in Groot Hertogdom Luxembourg; our warm thanks to the sponsor who offered us this price.

After the Big Band performance we switched over to the music of the 80's with the 'Totally Awesome 80s' party. The dancing floor had been rapidly filled. Also some friends from Burundi could not resist to the rhythm and joined the other dancers. Summarized, a successful and extraordinary super-sociable festivity!

Shortly summarized, it was a successfull and extraordinary super-sociable party !
Internetusers can see the photo's 'Heikenskermis 2009' via the following link:
http://picasaweb.google.be/anne.paeshuyse/HeikenskermisWebsite?feat=email#
Similar to previous years, the turnover of this festival has been donated for the projects of vzw 'Vleugels van Hoop' = Wings of Hope'. This year 'Vleugels van Hoop' wants to cooperate in the project "Lodging for children' in Rwanda: in the girls' school of Shyorongi 'Wings of Hope' wants to support the furnishing of a new, badly needed sleeping space. The work for the construction of the dormitory has already started.

Our warmest "Thank You" goes to all sympathizers, sponsors and co-operators who are present each year again. Thanks to your support "Wings of Hope" can realize a beautiful project.

We look forward to meet all of you again on our Heikenskermis 2010.
---
Project: 'Twese Hamwe' Canalisationproject over a length of 120m ( 60m x 2 )
Since our buildings tend to collapse because of the erosion, and because of the depth of the creek becoming 3m at some spots which is dangerous to our kids, we opted to start a project with less costs than the original one.
We will use eucalyptus beams to support a plastic screen to in that way hinder the water to trickle in the soil (see pictures). This system would last for 5 to 6 years. Because of this, without too much damage, we can wait for a permanent solution.
Budget for the canalisation
Nr

Description

Amount

Unit price (RwFr)

Total price(RwFr)

1.

Beams

400

2.000

800.000

2.

Damsels

65

3.500

227.500

3.

Nails

50 kg

1.500

75.000

4.

Plastic screen

24 rolls

40.000

960.000

5.

Soil

20 trucks

25.000

500.000

6.

M.O

______________

_____________

600.000

TOTAL 3.162 .500
It is three millions one hundred sixty-two thousand five hundred Rwandese francs, or four thousand two hundred and twenty euro (€ 4.220).
The needed funds are fulfilled already and the Works have been started.
---
Two new projecten were accepted for 2009-2010 being the purchasing and placing of two mills.
They are neame to the hill were they will be placed in Mabayi, the village of the First project 'DAB' of 'Vleugels van Hoop'. Seen the positive feedback from the citizens the trust increased to start something new.

Project Gitukura
'DUHARANIR AMAHORO' 'Working on peace'
Subject of help: encourage and promote self development
Chairman of the association: NIYONZIMA Aline
Hill : Gitukura - Area/Municipality: Mabayi - Province :CIBITOKE

PROJECT: IMPLANTATION OF A MILL IN GITUKURA

The association DUHARANIR AMAHORO wants to promote self development by installing a mill in Gitukura
The association exists of 16 persons and started in February 2008 under the chairmanship of Aline NIYONZIMA.

By gathering the 16 of us we found out to be stronger together and cooperation makes lives better. Our biggest driver to start the association is to fight the hunger w, our families and neighbours are suffering of. Thanks to our association we started to realise we can improve by implanting a mill.

Overall objective

As dough is the basis feeding in our region, we (being women) want to relieve mainly our task - on the one hand manual grinding – by replacing the tamping-bar by a mill.

Results of the project

By allowing access to the mill for all members, the project will contribute in an improvement of the health of the population, as good quality flower will be available.
On top of that the health of the cattle will improve as well as they will be fed with the left-overs of the manioc, mais and other grains..
Budget of the project
FINANCING

Description

Amount

Unit price

Total price

Association

Sponsor

Total

Plot

10mx5m

Fixed

100.000

100.000

-

100.000

Levelling

20h/j

1500

30.000

30.000

-

30.000

Bricks

6000

20

120.000

120.000

-

120.000

Metal door

1

150.000

150.000

-

150.000

150.000

Metal window

2

70.000

140.000

-

140.000

140.000

Roof

6mx4m

Fixed

80.000

80.000

-

80.000

Sheet iron

15

14.000

160.000

-

160.000

160.000

Construction
worker

10h/d

3.000

30.000

30.000

-

30.000

Carpenter

2h/d

3.000

6000

6.000

-

6.000

Mill

1

1.400.000

1.400.000

-

1.400.000

1.400.000

Transport

1

20.000

20.000

-

20.000

20.000

Total

366.000

1.870.000

2.236.000
Requested amount of sponsoring 2.459.600-366.000=2.093.600 BuFr (two million ninety-three thousand six hundred BuFr) = 1.164,00 euro (1 euro= +/- 1800 BuFr)
---
Project Kabere.
«DUHARANIRE AGATEKA K'UMUKENYEZI MUKWITEZA IMBERE »
'Striving got respect and the development of the woman'

President of the project: AHINDOREYE Gélasie
Hill: KABERE - Area/Municipality: MABAYI - Province : CIBITOKE
OBJECT AND JUSTIFICATION OF THE PROJECT

The association exists of 12 women and 1 man, who have already experienced that cooperation and working together helps them in the fight against hunger and poverty.

Activities we want to focus on are:

- Country labor against payment of a certain sum to the employees who are no member of the association
- A monthly contribution of 200 Burundese franks by all members of the association
- Selling agricultural products
- Brewing of banana beer « URWARWA ».

The association wants to extend her activities and therefore asks sponsoring to be able to build a mill which will make grinding a lot more easy. The left-over products will be used as food for the porcs and chickens the association wants to grow.
BUDGET FOR THE PROJECT TO IMPLANT A MILL



FINANCING

Description

Amount

Unit price

Total price

Association

Sponsor

Total

Plot

20mx30m

Fixed

For the association

Implantation

50.000

50.000

-

50.000

Bricks for the foundation

50.000

50.000

-

50.000

Construction
works

200.000

200.000

200.000

Bricks +
Transport

20.000

30

600.000

-

600.000

600.000

Sheet iron

12

10.000

120.000

-

120.000

120.000

Carpentry + carpenter

-

-

50.000

50.000

50.000

Mill

1

2.000.000

2000000

2.000.000

2.000.000

Metal door

1

200.000

200.000

-

200.000

200.000

Metal window

2

100.000

200.000

-

200.000

200.000

Guard

1

100.000/year

100.000

100.000

TOTAL

250.000

3.320.000

3.570.000
Requested amount of sponsoring : 3.320.000 BuFr = 1.845,00 euro (1 euro= +/-1800 BuFr)
---
During the passed summer months several private iniatives * have supported the projects of 'Vleugels van Hoop'.

Young people wanted to donate the collection done during their wedding celebration, partying people on an anniversary party, of a 50-years wedding celebration, 50th birthday, a 'being together for 20 years' wanted to donate their cash Gifts, ………….

*On request of the people nu names are mentioned.

Our next newsletter will only come out in January 2010, with a lot of news as we plan a visit to the planned projects in December.
---

Thank you to so many people who, close by or far away,
likes on the ideas of 'Vleugels van Hoop' vzw and support them.
Do you want to support 'Vleugels van Hoop'vzw?
Bank account number 001-5300142-41
From the bottom of our hearts: THANK YOU!

---