Vleugels Van Hoop in GBS 't Blokje Loenhout
A journey with our family Totori …
A journey to a far away, beautiful country …
A journey to Rwanda …
A journey to 'Jya Mu Bandi Mwana' .
Impressive what Xaverine and her team are daily meaning for their children.
Touched by the circumstances in which they daily play, work, survive.
'Here they for sure can use some support' was our idea.
Also the children, colleagues and parents in our school were convinced to collaborate on this.

In December every body could het to know the beautiful Rwanda, Vleugels van Hoop en 'Jya Mu Bandi Mwana' via a slide show.
The upcoming Christmas market with a warm atmosphere was the first opportunity to make it happen. The children used all their creativity to create to make the most beautiful Christmas gifts. These were successfully sold by the teens of study group 6.
We were working towards the next event shortly after the Easter holidays: the sponsored run. Teacher Hilde upfront refreshed the memory of the pupils: Who are we running for? Again, where was that? Why is this important?
Looking for sponsors, getting out the running shoes and loosening the legs. All children, from all ages, left very motivated for a 1 hour run. Also teachers and parents put on their sport outfit for this event.
A small chat in between, refuelling at the water supply, a nice talk on the way and constantly keep on encouraging each other.
And the result was great: no less than 2066 kilometre were made that morning ! A tasty ice-cream earned for sure.
But was the final result of this all? We got to know this in the last school week. A cheque of € 6.000 was handed over to the people of Vleugels van Hoop who keep on supporting, over and over.
With a 'world' song this project was closed in a musical way…

Hello world, world,
the world is mine.
There is plenty of space,
So please join us.
Hello world, world,
the world is yours.
There are thousands of colours
Much more than red, white and blue.
And what I do, do, do,
do it together with you.
And where I go, go, go,
I go together with you.
Hello world,
yes you, you are from all of us.
Far countries, new people,
are coming to live in my head.
It opens all borders
and carries you into the world.
Hello sun who shines on all the people.
Hi neighbour, tell me your story.
You came from far away, now you are here.
We're all together now.
Hello world,
yes you, you are from all of us.
Suzan Bruyns
---
Follow-up of the project
On Tuesday we, François, Paul, Anita and Hilde, left for 't Blokje in Loenhout, in the Kempen.
't Blokje is a primary school with about 260 pupils who have been working all year around and for Rwanda for the about 260 disables children of Xavérine. Also the kindergarten helped!

A sponsored walk was the final 'cherry on the cake'.
Vleugels van Hoop vzw did receive a cheque of € 6.000.

Bravo, bravo, bravo and a thousand thanks, what am I saying 6000 thanks for so many effort!
The pupils and their teachers were very curious to hear what the collected money would be used for. I told them over the new building project, the classes, the sanitary block, the refectory, the kitchen and all we want to accomplish over a period of 3 to 4 years. Everybody was very happy and the sun also celebrated with us.

Regards,

Hilde*
*treasurer of 'Vleugels van Hoop'
---
Images
Clic on the image to see the whole album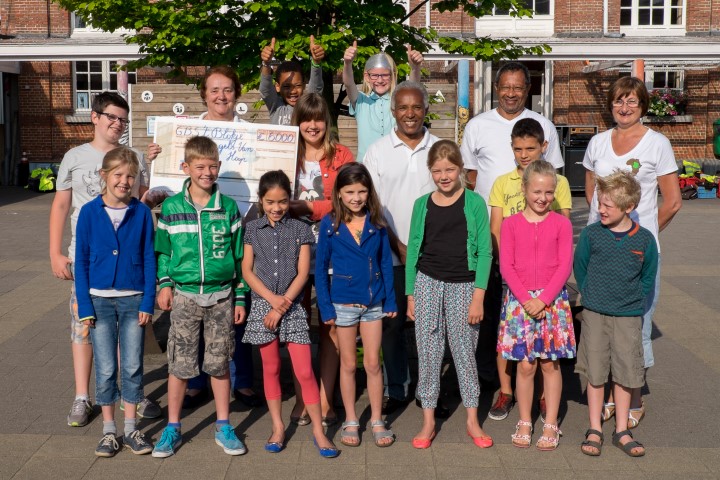 ---