Treatment of cleft lip and palate
Location: Zone Buterere, Bujumbura, Burundi
Project leadtime: 6 months
Requestor: NDAYISHIMIYE Liliane, Coordinatrice
Association Mères des Enfants Handicapés au Burundi (AMEHBU)
Description of the project:
In Burundi there is an increasing number of cases of cleft lip and palate, the treatment of which still poses serious problems due to the lack of treatment immediately after birth. These children usually have to wait a very long time before they are treated. Children born with these types of malformations have developmental delays due to the sucking and swallowing disorders that these malformations cause. To treat these deformities, surgery is necessary.
Objectives:
Provide surgical care to 25 children suffering from deformities due to cleft lip-alveolo-palate.
Beneficiaries:
Direct: 25 children aged 0-7 years with an abnormality due to a cleft lip, alveolo and palate.
Indirectly: the parents, caretakers and teachers of these children.
Budget: 5.250 €
Risks:
- Contempt for these children
- Some women are rejected by their husbands because they bring bad luck.
Attached documents:
Budget
---
Follow-up of the project
Date: July 25th, 2023

Name project: Treatment of cleft lip and palate

General status:

The fentes labio-palatines project is a project that consists of leading the surgery of cases of cleft lip, alveolo and palate for 25 children between 0 and 7 years old.

Progress since last status report:

A total of 25 cases were operated, including newborns and schoolchildren. The interventions took place in April (2), May (2) and 21 other cases in June and early July 2023.
A cooperation agreement was signed between AMEHBU and the pediatric surgical intervention hospital.
For newborns who initially had difficulty suckling, these problems have been resolved after surgical intervention, to the satisfaction of the parents.
Children who are already in school have regained respect in their school environment and in the community at large. Self-esteem has been restored for some women who have been rejected by their husbands.

Financial status:

Bank charges: 50 EUR
Medical consultations: 100 EUR
Operations and hospitalization: 5,000 EUR
Transport of children: 100 EUR
Total costs: 5,250 EUR

Problems/concerns:

25 other cases identified in the community could not be treated.
The local authorities of other areas have contacted us to inform us of other cases of children with these malformations and have asked us to intervene.

Attached documents (pictures, receipts,…):

Invoices, photos.
---
Images
Clic on the image to see the whole album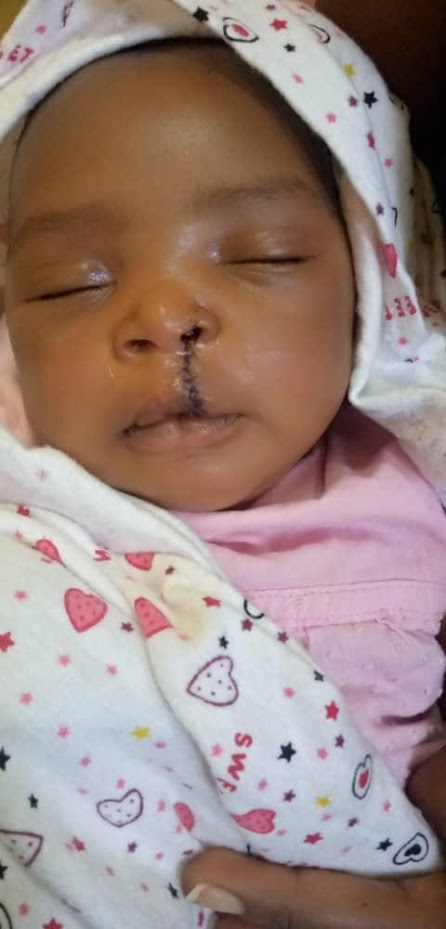 ---