CRVO – Purchase of rain gadgets for 50 school children
Location: Kabale - Uganda
Project leadtime: 3 months
Requestor: Leonard Tumwesigye for and on behalf of Children
Rescue Voluntary Organisation (CRVO)
Description of the project:
The climate changes have affected children's performance on school as they have failed to attend school during heavy rain season. The purchase of rain gadgets like rubber boots and leather raincoats will protect them as they walk to school. This project covers the needs for half of the children under CRVO.
Objectives:
To protect the children from falling sick due to walking in the rain unprotected
To help children attend the school regularly even during rainy seasons
To protect children's books from being destroyed by rain
To help children to improve on their academic performance
Beneficiaries:
Half of the children of CRVO (50 children) in the age between 4 and 14 years old, who walk longer distances to school.
Budget:
| | | | |
| --- | --- | --- | --- |
| Item | Quantity | Unit price (Uganda shillings) | Total (Uganda shillings) |
| Rubber boots | 50 | 35.000 | 1.750.000 |
| Leather rain coats | 50 | 45.000 | 2.250.000 |
| Stockings | 50 | 4.000 | 200.000 |
| Transport to and from Kampala | | 100.000 | 100.000 |
| Total | | | 4.300.000 |
The total budget is 1.000 €.
Risks:
This project is risk free instead it will address the risks of children falling sick and being absent from school.
Attached documents:
None
---
Follow-up of the project
Date: January 27th 2018

Name project: Project 80 – CRVO - Purchase of rain gadgets for 50
schoolchildren
General status:
On January 17th we received the funds and immediately started the purchase of raincoats, boots and stockings.
Progress since last status report:
On Saturday January 20th and 27th we divided the coats, boots and stocking amongst 50 schoolchildren. We selected those children, between 4 and 14 years old, who need to walk the longest distances to school.
Financial status:
All funds were used for the purchase of the rain protection gadgets.
Problems/concerns:
None
Attached documents (pictures, reçu's,…):
Pictures
---
Extension project 2018
At the general meeting on February 3rd 2018 the unanimous decision was taken to extend this project in such a way that all school-going children will be provided with the necessary rain protection gadgets (raincoat, boots and stockings). This requires an additional budget of +/-1000 euros. You can find the photos of all purchases and the children in the photo album below.
---
Images
Clic on the image to see the whole album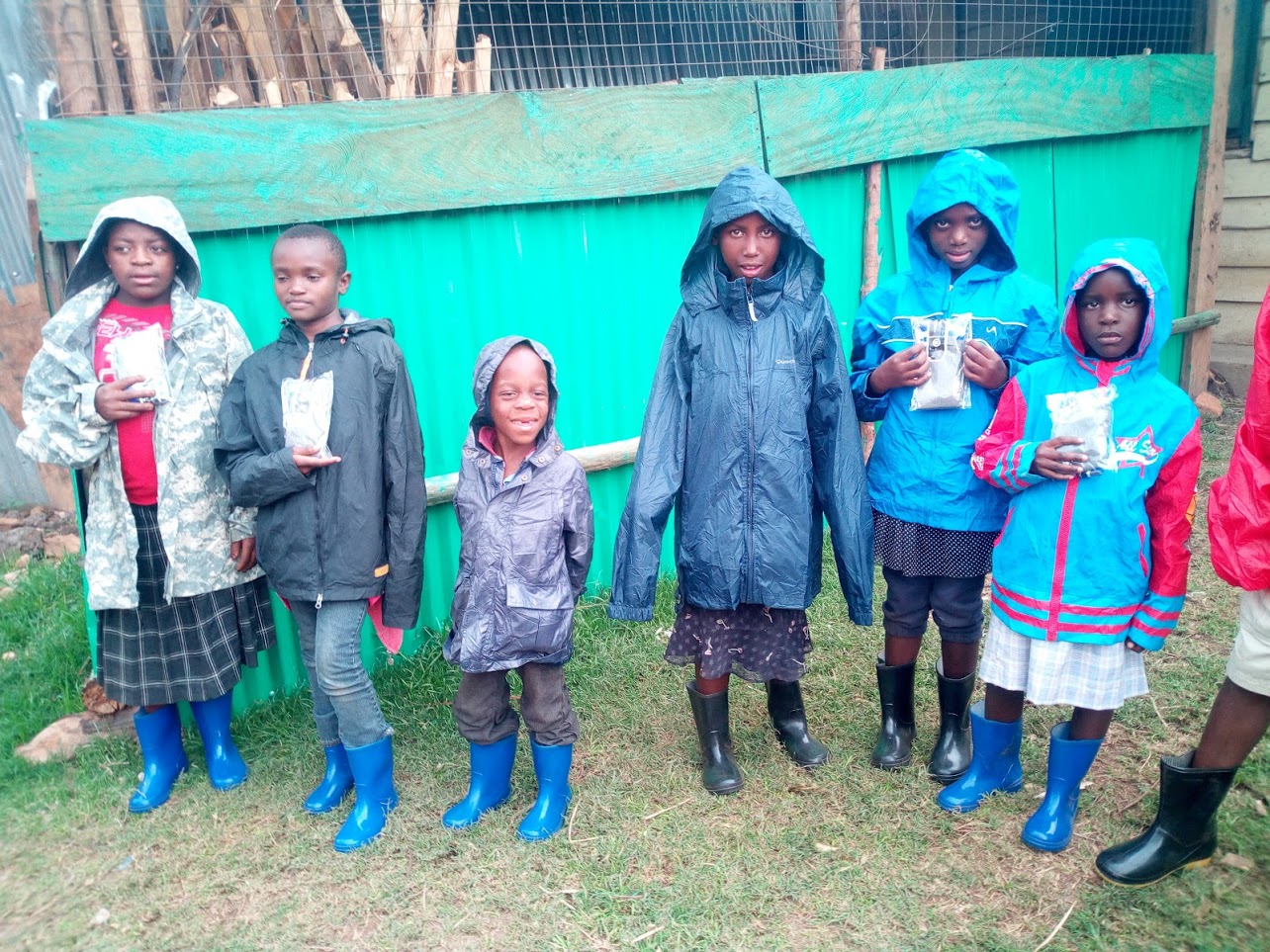 ---