Water tanks households
Location: Kabale - Uganda
Project leadtime: 2 months
Requestor: Tumwesigye Leonard on behalf of Children Rescue Voluntary
Organisation (CRVO)
Description of the project:
Water in life is an important necessity for meaningful and health of our children and their communities. Many children don't get clean water and the distance to water sources is long.
Objectives:
To reduce the burden of children to walk long distances for fetch water
To reduce diseases due to drinking unclean water
To reduce the risks the small children undergo while walking to the water sources
Beneficiaries:
35 homes of vulnerable children under CRVO and their households
homes of children who's guardians (single mothers) are chronically ill
Budget:
The budget for 35 water jars will be 35.000.000 Uganda Shillings.
Risks:
Only risks are the strongly hiking of prices in case implementation would be delayed.
Attached documents:
Detailed budget overview
---
Follow-up of the project
Date: October 20th 2022

Name project: Water tanks households
General status:
After arrival of funds September 1st the implementation team gathered and started the project by purchasing all needed materials. On September 7th all materials were distributed to all houses. Since then, there has been close monitoring of the guardian's representatives and the CRVO staff to ensure that good work is done. Today a total of 20 tanks have been completed and we hope by 7th November all the targeted beneficiaries will be equipped with water harvesting tanks.
Progress since last status report:
Since the start of this project there has been steady progress as each family actively participated in ensuring that the needed materials are carried from where the road stops to their hilly places .This indeed helped the contractor and his staff to work day and night in order to finish the work within the agreed time frame. Each water harvesting tank has a capacity of 1200 litres that is equivalent to 60 jerrycans of water.
Financial status:
This project was budgeted at a total cost of 35.000.000 Uganda shillings and all expenditures have been done accordingly.
Problems/concerns:
The challenges encountered during the implementation of this project were
- hiked prices
- hard to reach some of the houses
- transport challenges due to poor roads
Attached documents (pictures, receipts,…):
Receipts and pictures
---
Images
Clic on the image to see the whole album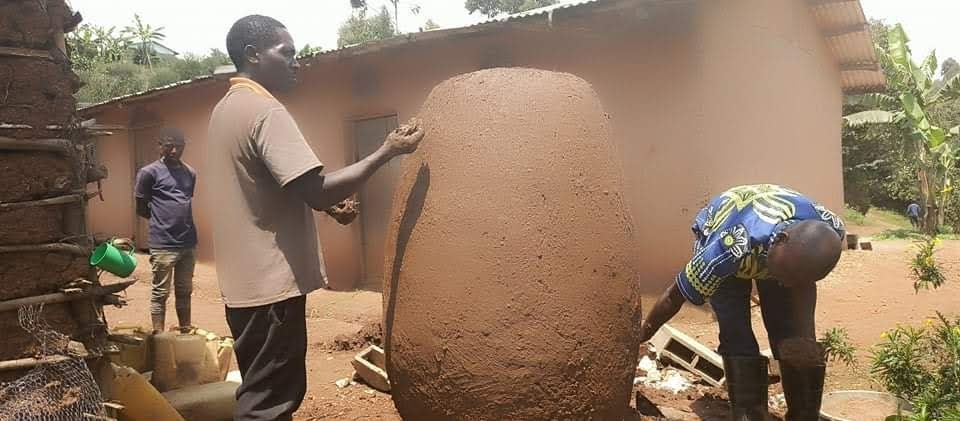 ---