Goat rearing
Location: Kabale, Uganda
Project leadtime: 6 months
Requestor: Leonard Tumwesigye on behalf of Children Rescue Voluntary Organisation (CRVO)
Description of the project:
After using all means to survive the Covid-19 pandemic a new income generating project needs to be started for the households of the vulnerable children. Goat rearing is a profitable home based project that requires low investment capital and the multiplication rate of goats is high. Hereby we generate a regular income for poor, landless and marginalized families, by providing meat and potential to sell both goats and manure.
Objectives:
- Enable households start small a income generating project that can be managed at a minimal cost and be able to improve on their lives.
- Enable households acquire relevant goat rearing knowledge and skills.
- Help households to be in a position to provide their children with the basic necessities of life after a period of time.
- Enable beneficiaries have manure to be used to improve on the productivity of their land
Beneficiaries:
Around 85 families will get 2 female, mature goats and the 5 male goats will be spread around the area so are easy accessible for mating.
Budget:
41.450.000 Uganda Shillings, equal to 10.061,00 €
Risks:
None
Attached documents:
Detailed budget overview
---
Follow-up of the project
Date: March 24th 2021

General status:
This project started with the signing of the cooperation agreement and funds transfer in February.
Beneficiaries groups were formed amongst the CRVO children and their households. Each group nominated a team leader and 2 members to work together with the project staff and management.
Progress since last status report:
The veterinary officer provided training to the beneficiaries in their groups and gave children and their guardians some basic knowledge on how to fight and mitigate the impact of covid19 that affected their livelihood.
Needed goats were purchased and vaccinated after which each of the 5 groups of minimum 14 households, living in the same region, got their goats with 1 male goat centrally positioned in their area.
Till today 150 goats have been distributed and the remaining 16 will be given next Saturday 27th March.

Financial status:
The provided funds has been fully used in accordance to the submitted proposed budget.
Problems/concerns:
Scarcity of goats in markets due to covid19 impact
Meeting beneficiaries had to be done in groups due to covid
Hiking of prices so bargaining by the purchasing team was needed to have sufficient funds
Attached documents (pictures, receipts,…):
Pictures
---
Images
Clic on the image to see the whole album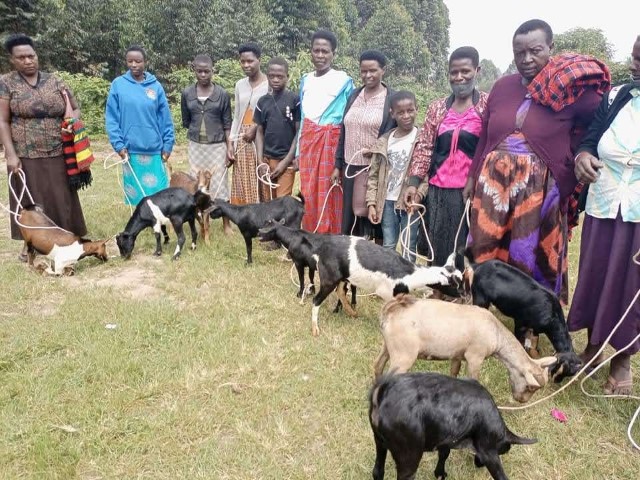 ---