Support for saving life (Covid-19)
Location: Kabale, Uganda
Project leadtime: 2 weeks
Requestor: Leonard Tumwesigye on behalf of Children Rescue Voluntary Organisation (CRVO)
Description of the project:
Due to the pandemic the government has put measures in place, which have had serious impact on the lives of people, especially for the poor and the vulnerable families. The lockdown forces all people to keep indoors so people lost their income but still have to support vulnerable children, included in their families. If no intervention is made now, starvation may be more dangerous than Covid-19 causing more deaths. The lack of food is also leading to an increase in domestic violence.
Food will be provided to about 70 families where each family has more than five members, most of them vulnerable children.
Objectives:
To provide food to save lives
To give hope to children and their families during these difficult times
To reduce domestic violence, as result of lack of food
Beneficiaries:
The beneficiaries will be the neediest vulnerable children and their households, including some elder people as well.
Budget:
Overall budget of 8.560.000 Uganda Shillings (i.e. 2.200 €) to purchase maize flower, beans, rice, sugar and salt
Risks:
None
Attached documents:
Detailed budget figures
---
Follow-up of the project
Date: May 18th 2020

Name project: Support for saving life (Covid-19) - CRVO
General status:
The lockdown measures related to Covid-19 halted daily life since movement was restricted. From the 44 million affected people in Uganda as ever the most affected were the vulnerable children and their households. This because they earn a living in the informal economy with no employer-provided benefits and have the most meagre social safety net to fall back on. The closure of all their sources of employment meant keeping indoors with no food as a basic need. Therefor we asked for the relief of support funds and a support of Uganda shillings 8.560.000 Uganda Shillings was provided by Vleugels van Hoop. CRVO started the implementation program targeting vulnerable children under CRVO responsibility and other neediest households that included the elderly in Kabale. The families were given hope through providing them with food, to avoid children starvation and domestic violence cases to increase due to lack of basic needs.
Progress since last status report:
This project allowed us to provide food, door to door, to 70 households, with each not less than four beneficiaries and with the majority of children in each household. This put a lot of smiles on the faces of all the beneficiaries. Despite the fact that the provided food was not sufficient, some hope was restored.
Food purchased and distributed amongst the families was:
658 kg of maize flour
675 kg of beans
550 kg of rice
315 kg of sugar
100 cartons of salt
Financial status:
The received funds were spent in accordance with the submitted budget as one pay off.
Problems/concerns:
- Some households were hard to reach due to bad roads
- Heavy rains disrupted the food distribution
- The number of vulnerable households outnumbered the available relieved amount of food
Attached documents (pictures, reçu's,…):
Receipts of purchases
---
Images
Clic on the image to see the whole album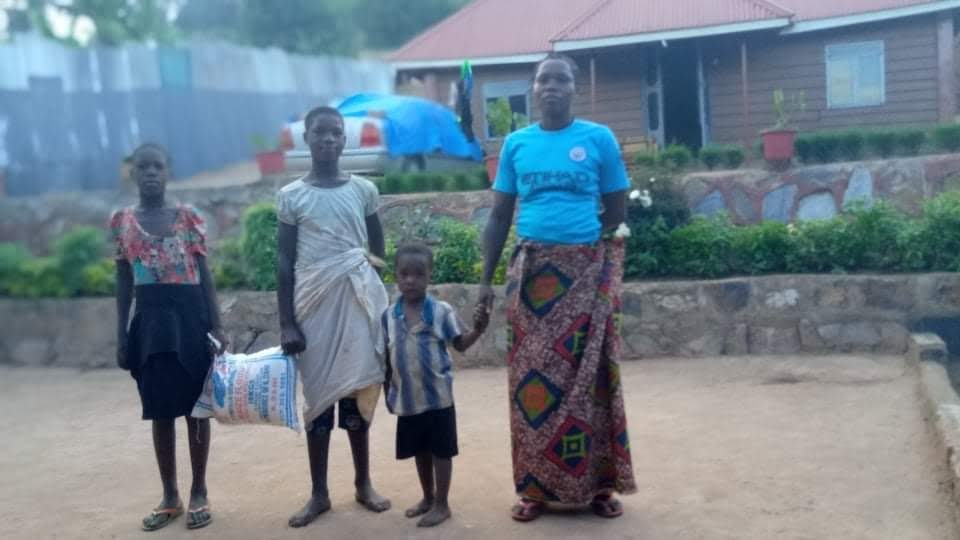 ---