Poultry farm rebuiling CRVO Kabale Uganda 2015
Name project: Poultry farm rebuilding and restocking
Location: Kabale, Uganda
Project leadtime: 3 months
Requestor: Leonard Tumwesigye for CRVO (Children Rescue Voluntary Organisation)
Description of the project:
In 2010 we came up with the poultry project as an income generating project as supplementary sources of income to CRVO as well as for households from where we have children in the project. The organization has been running this poultry since 2010 with full support from Vleugels van Hoop association till early June 2015 when we lost all the birds due to the disease outbreak that left all the chicken 800 in number dead despite the intervention of the veterinary doctor. This project has been the major source of income to cater for children's education.
Objectives:
Improve/rebuild the existing poultry farm and restock
To increase the sustainability of CRVO for it to be able to continuously support its Vision and mission for the orphans and vulnerable children.
To promote socio-economic transformation of Children and their community through income generating projects at the household level, which will help them in meeting their own basic needs.
To establish an income generating project for CRVO to help support the operations and interventions of the CRVO as well as ensuring sustainability of the children's support
To improve the nutrition at the house hold level.
Beneficiaries:
Individual households having income generating projects and improved nutrition
Having a source of income for the children's school fees necessities to support its operations and interventions in the community more especially for the orphans and vulnerable children.
Both children, caregivers and community will acquire improved skills and knowledge for productive poultry keeping.
Creation of employment for some community members.
Through this project the orphans and vulnerable children, their caregivers/parents and community members will be equipped with business/entrepreneurial skills.
Budget:
Item

Quantity

Unit price
(Uganda Shillings)

Total cost
(Uganda Shillings)

Total cost (€)

Improvements to the poultry farm

1

3.500.000

3.500.000

941

Labour

1

500.000

500.000

134

1 month old chickens

700

9.000

6.300.000

1693

Vaccines

2.000.000

2.000.000

537

Chicken feed

210 bags

15.000

3.150.000

847

Feeding troughs

10

50.000

500.000

134

Water drinkers

5

100.000

500.000

134

Transport of chickens and feeds

500.000

500.000

134

Wire

400.000

400.000

107

Fencing wire

900.000

900.000

242

Laying boxes

8

60.000

480.000

129

TOTAL

18.730.000

5.034
Exchange course of June 23rd: 1 € = 3.721 Uganda Shillings
Risks:
Kroiler breed is an Indian breed that has been recommended as resistant to diseases. It has also been recommended to construct new structures which are improved and are made up of only iron sheets to avoid some eventualities including fire outbreak. Most of the materials that were being used should not be used in new restock to avoid transfer of diseases from the previous chickens.
---
Follow-up of the project august 2015
Date: August 8th 2015

Name project: Project 61: CRVO – Kabale, Uganda - Poultry farm
rebuilding and restocking
General status:
This project is one of the key income generating projects that has continued to contribute towards educating children under CRVO. During the month of July we received financial support to restock the poultry project which proved to be one of the essential sources of income that enable children access education. We are happy to report that a team of five people, both staff, child representative and guardian's representative convened a meeting in which the work plan on how to implement the project was drawn.
Progress since last status report:
Since then the following stages have been taken:
Stage 1 : meeting of the responsible committee
Stage 2 : Identifying the best builder that has a wide knowledge on the construction of the poultry farm
Stage 3 : Purchasing the requirements for building the structure
Stage 4 : Construction of the house
Stage 5 : Ordering the chickens
Stage 6 : Restocking the chickens – one of the coming days
Stage 7 : Monitoring and evaluation – to be started

Financial status:
Total cost: 18.730.000 Uganda Shillings
Problems/concerns
Attached documents (pictures, reçu's,…):
Pictures, receipts of spend fund
---
November 2015
Date: November 7th 2015

Name project: Project 61: CRVO – Kabale, Uganda - Poultry farm
rebuilding and restocking
Progress since last status report:
Construction of the poultry house:
A two level poultry house was completed with a capacity of housing 400 chickens per level. This was for a period of two weeks. With the expansion of the project, there is ample shelter for the chicken.
Chickens:
700 chicks were stocked for the start. These are all doing well.
Proper management of the chicks is given priority through regular treatment, feeding and monitoring of individual chicks.

Financial status:
Funds are fully spend and receipt of all purchases were provided.
Problems/concerns:
The hiked price of feeds is the only challenge that has been registered so far.
Attached documents (pictures, reçu's,…):
Pictures.
---
Images
Clic on the image to see the whole album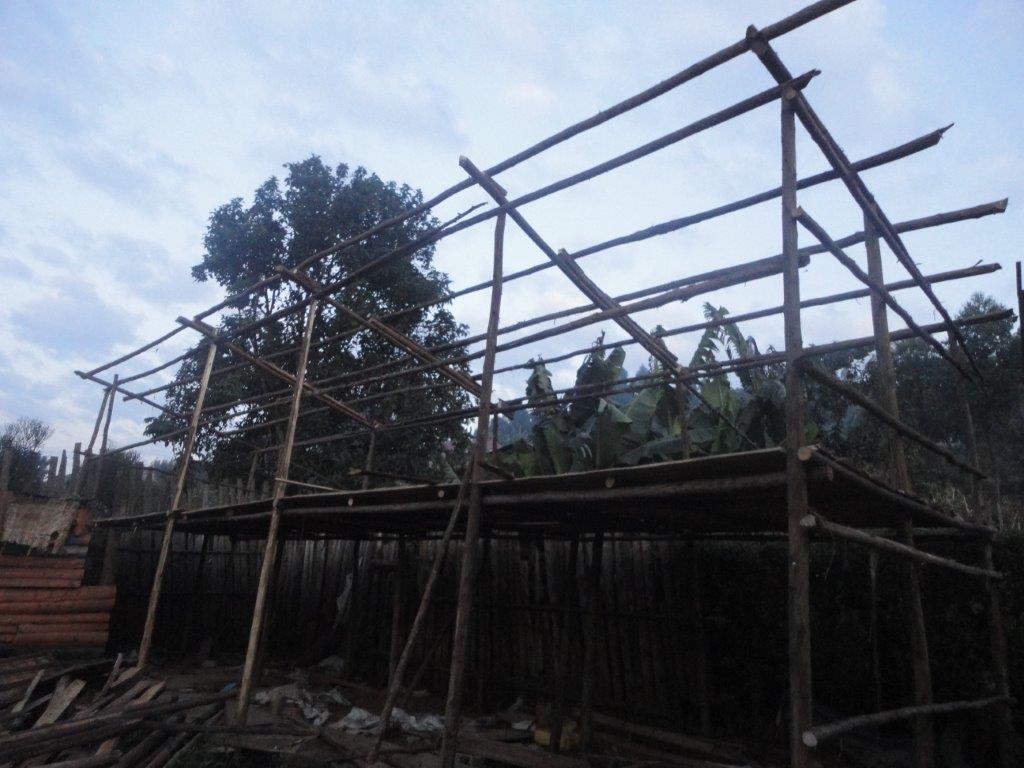 ---