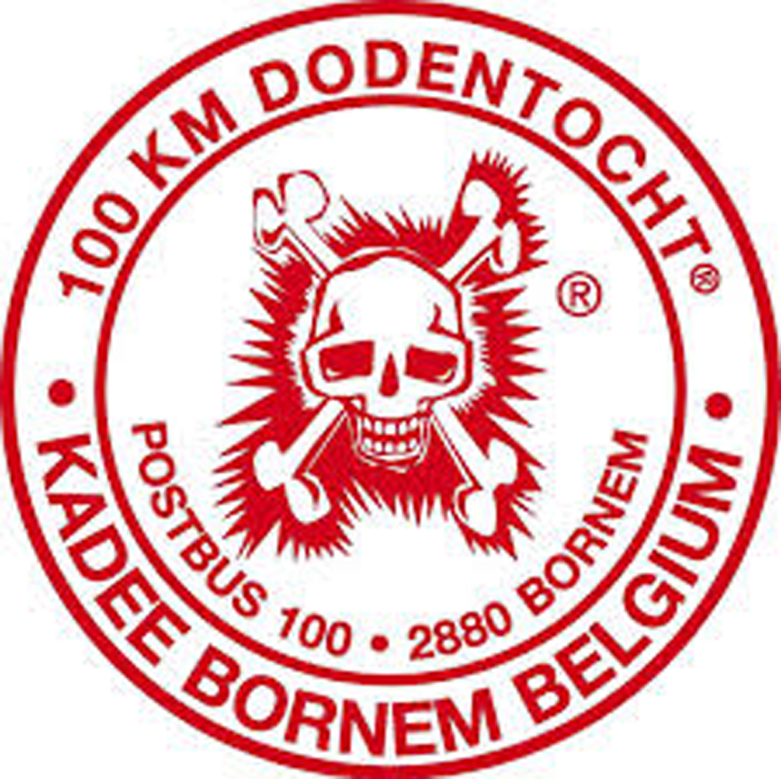 Dodentocht Bornem 12 augustus 2016
August 12th 2016 at 20 pm the 47th edition of the Dodentocht in Bornem is planned.
Two brave ladies, Katheleen and Diane, are grabbing the challenge to walk 100 km for the benefit of charity.
They will collect sponsoring for the big construction project of Vleugels van Hoop.
Due to this project 267 disabled children will get a warm shelter and good care.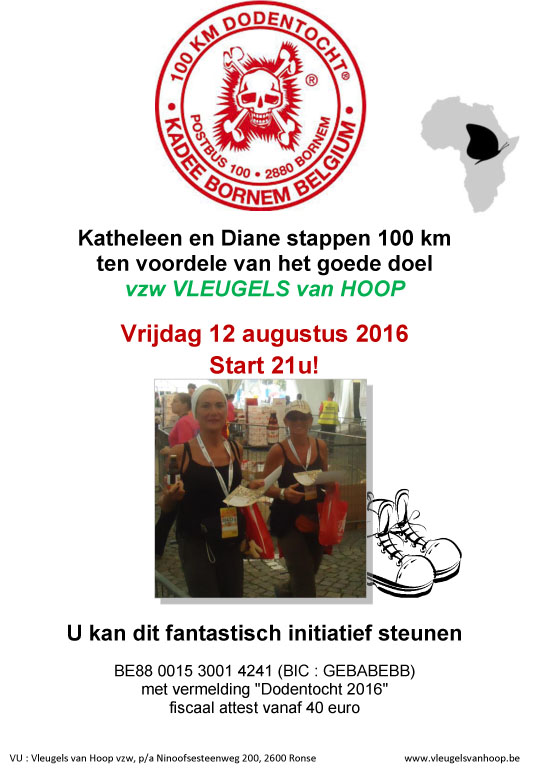 ---
Follow-up of the project
Article written by Diana, one of the participants
Before, during and after the Dodentocht…

As every year I was looking forward to participate in the "Dodentocht of Bornem" and this together with my friend Katheleen. At a certain moment I got the question why I would not do so for the good cause: Vleugels van Hoop. My first idea was, why not – I participate anyway! But…I didn't know Vleugels van Hoop at all. I preferred to be informed about their association and way of working! The first meeting was organised! I met nice people (which was the first good point) and between a drink and a bite all became clear. I went home with a very good feeling and the confirmation I took the right decision.

Then all started to go fast: posters, flyers, an interview which resulted in a half-page "promotion" in the newspaper Nieuwsblad and the necessary nerves! Because, unconscious, this puts a certain pressure and responsibility on your shoulders… Because my principle was: if you engage yourself you have to do it good!! This meant for sure finalising the 100 km…. The week before all kind of small 'diseases' showed up, which I had never before.

And then, on August 12th: the start! Go for it with full courage! After 17 hours and 2 minutes we passed the finish. The last kilometres we got wings, first because we suddenly saw a delegation of ladies with white T-shirts, from whom 2 with a beautiful white rose (for us) and secondly: the knowledge that the rest of the team was waiting with the promised 2 Bornemmekes and a bag of chips!

And…we were all satisfied! The walking went fine, the bear tastes very well and we heard the financial support was coming in smooth – this was in the end the target of this whole adventure!
---
Images
Clic on the image to see the whole album
---