Heikenskermis - Moerbeke Waas 2008
Already mark in calendar 16 august and even more important …be there!!
We are going to enjoy, literally and figurative!
A whole day party!!
Starting with an aperitif (16u).
The eat fete (18u) nice chicken and ribs with fries.
We was already present knows it means feasting from the beginning till the end!
After acquiring strengths, we must burn away of course these extra calories and how do you do that?
With the music fete (21u) You follow the rhythm of the group Djem Slam which will bring act to a splattering percussion.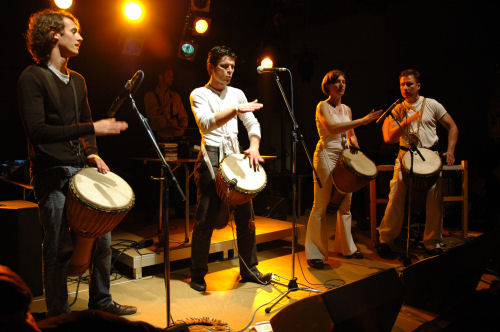 It will be a interactive travel story:
It will be:
A start in Africa with the Boenka Boenka's,
A landing in Australia with the Aboriginals,
Coming America with the Indians,
Ending in Europe for "we will rock you"…
But in the end:

RETURNING TO AFRICA, as the profit of the whole fete will go, as every year, to projects in Rwanda - Africa.
Do we end the day with a huge dancing party??
We happily present you the school project Munyinya 2008. Clic here!
Up to all of us to offer water to the 1058 school kids.
'Vleugels van Hoop' vzw express their gratefulness for your big
---