Invitation Heikenskermis 2011
---
Follow-up of the action
Heikenskermis 2011
Once more Heikenskermis stood in the breach for one of our projects. Fortunately the sun was with us and we were very relieved, since the days before it has been raining cats and dogs! It was a beautiful summer day. Soon many friends, families and sympathizers arrived on the site. Many of them are loyal participants who every year are there. Many thanks to you all for being there!
No barbecue can start without an aperitif: a cava or a fruit juice. While the kids are having fun on the inflatable castle, the adults are chatting and getting informed about our project in Burundi. The earnings of this feast will be spend to equip the Center of Health in Mbogora in Burundi. This center has an urgent need of medical equipment in order to allow it to take care of the sick of the region and to be able to treat illnesses such as malaria, pneumonia, diarrhea, ...
Meanwhile our president and the treasurer took the opportunity to honour some of our best supporters. First of all she expressed her gratitude and her admiration to Dirk Duquet for his exceptional performance. Indeed Dirk succeeded in finishing all alone the 265 km of the Tour of Flanders. The Sponsor money he gathered will be used to finance one of the 'Wings of Hope's" projects. Thank you very much and congratulations! Then Guy Van Goubergen and Patrick Vermeulen were next. They cycled from Vosselaar to Compostella. Their sponsor money, no less than € 15 500 will be used to finance our project "Mother of the Poor" in Gikongoro, Rwanda. Thank you very much Patrick and Guy!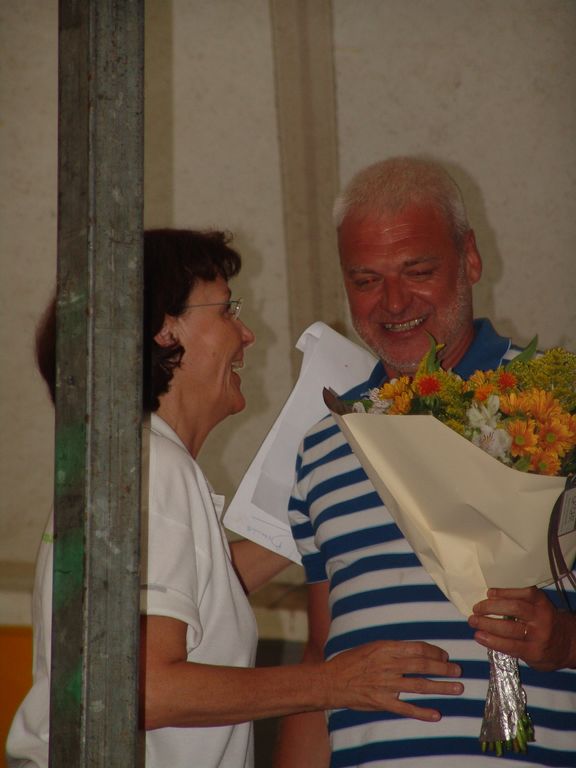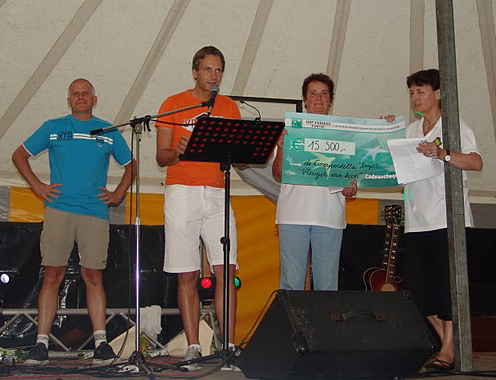 Then, members of the board and some friends went selling tickets for the traditional tombola. An "innocent" hand drew three tickets winning a gastronomic weekend in Houffalize. We wish the lucky winners a marvelous weekend!
Finally we would like to say thank you very much to all our sponsors, friends, sympathizers, to all selfless collaborators, as well as to our friends of Heiken for their presence and their support!
We look forward to meet you all again next year on our lustrum on August the 18th 2012. Of course we will be glad to keep you informed on the realization of our projects on our site www.vleugelsvanhoop.be/
---
Photo-report
Clic here to see this beautiful day!!
---