Heikenskermis 2012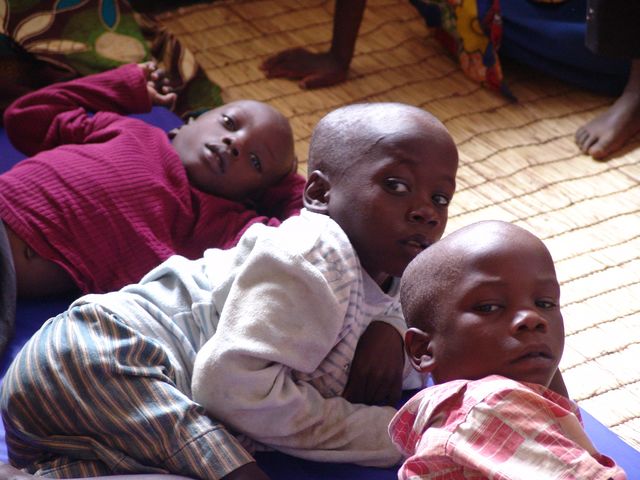 ---
Follow-up of the action
HEIKENSKERMIS 2012
Under a sweltering sun we brought everything in readiness to warm welcome family, friends and supporters to the annual BBQ. A very special party because our association celebrates its 5-year anniversary, five years in which we have been able to achieve a lot of projects and give wings to many people in Rwanda, Burundi and Uganda, thanks to the support of so many people. If it depends on us we will go on for many years !
In addition to our supporters who are present, year after year, this edition, however there were also a number of new faces to ascertain. We were very pleased with the presence of the 1st councillor of the Embassy of Rwanda in Brussels, Mr Faustin Musare. Just as we were also very pleased with the presence of our 'godparent' Jean Bosco Safari, who our after aperitif and barbecue, played with his group. Atmosphere was there for the full 200% ! What we all quietly hoped became reality: his last song was the 'Vleugels van Hoop' song composed by 'our Jean'! It made a deep impression on all of us because it is really, really good. You can listen to the song on our site.
As each year, there was of course the tombola, the lucky winners are as follows:
Patrick De Cooman, Evergem : 1 Bongo voucher for subscription to paper + 1 Bongo voucher for subscription to magazine to choose, donated by vzw Vleugels van Hoop
Peter Bracke, Moerbeke-Waas : voucher for family, donated by Hotel Ol Fosse d'Outh at Houffalize
Ria Lenjou, Moerbeke-Waas : voucher for stay with breakfast for 2 persons, donated by luxe-B&B Manoir Ivoire at Wépion.
Congratulations to all our winners and enjoy your prizes!
We want to thank all our sponsors, friends, supporters and all helpers of Heiken.
Thanks you to you all we can realize our project for the center for disabled children and young people in Kitabi (Rwanda): adapted rooms, water and electricity to give these children a real home, a custom training and drinking water.

We would like to see you back on Heikenskermis edition 2013!
---
Images
---