Be our guests !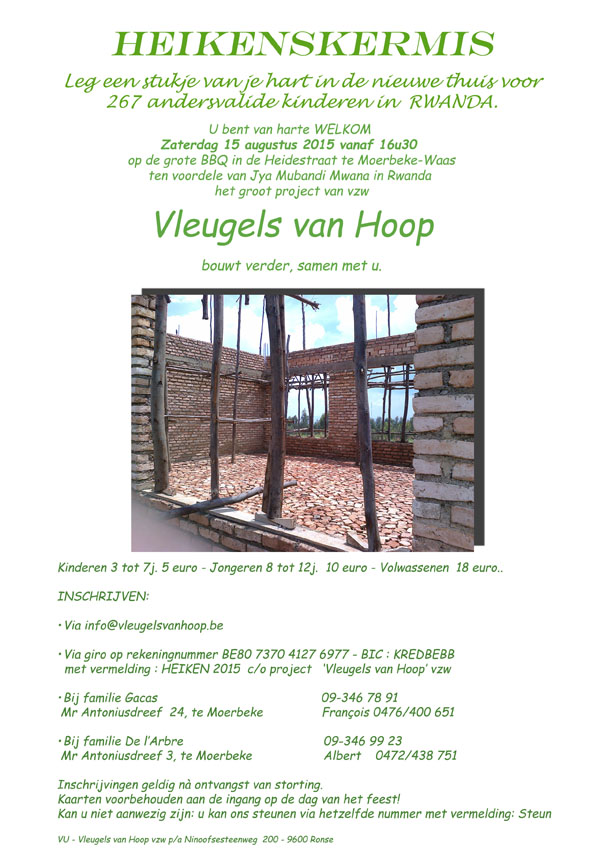 ---
Follow-up of the action
Heikenskermis 2015
Rain, rain, and more rain… …. would our yearly BBQ become a disaster?
Of course not, all arrangements were made accordingly: aperitif in the big tent and the barbecue covered with smaller tents. Besides some drops all went fine and dry.
And you know…. It was in fact cosy in the tent: known and new faces, nice chats, a drink along.
The barbecue was operated smoothly, both by the professional "bbq"-people as by 'for the occasion serving' members of Vleugels van Hoop!
Following our yearly habit, we distributed the tombola tickets which went very smooth!
This year our tombola prices had a gift packaging thanks to Lou & Miel De Corte, Ilan De L'Arbre en Josette Gacas. They donated a teddy 'bear' for the disabled children. Thank you very much to these young "donators".
Also the prices were super!
An artisanal ham (8 kilo), donated by Restaurant D'Hoeve Middelkerke, the traiteur-BBQ-man on 15/8
An overnight stay including extensive breakfast for 2 persons in B&B WIESENLOCH, in Sankt Vith.
A weekend for 2 persons on half board bases in Ol Fosse d'Outh, donated by VAYAMUNDO
A voucher for a diner in Restaurant La Tapa Canaria in Overmere, donated by owners Ellen and Mario
A voucher for a weekend also for 2 persons in the well-known De Kinkhoorn, in Oostende, also donated by VAYAMUNDO
A voucher fora n overnight stay for 2 persons, including breakfast in B&B Malpertuus in Moerbeke-Waas
Tickets for 2 persons, fora n "all-in" match of KAA Gent in the skybox of the Ghelamco-stadium in Gent, donated by the multinational EASTMAN, at the other side of the stadium
And last but not least the 8ste and last, special main prize: a basket, donated by Vleugels van Hoop, full of small stuff made by our protégés, the disabled children of Jya Mu Bandi Mwana.
Our warm and sincere thank you to all who has contributed to this event: our sponsors, friends, the "bbq"-team and all helpers of 't Heiken.
In all aspects, a big contribution of all of you in the construction of the shelter and new home for the disabled children of 'Jya Mu Bandi Mwana' in Kigali.
More news in our site or in our newsletter….
To be continued!!
Your Vleugels van Hoop-team
ps : The board of Vayamundo handed over a cheque of 5.000€, to support the Jya Mu Bandi Mwana-
project. 5000x THANK YOU for this!!!
---
Images
See more: clic on the image....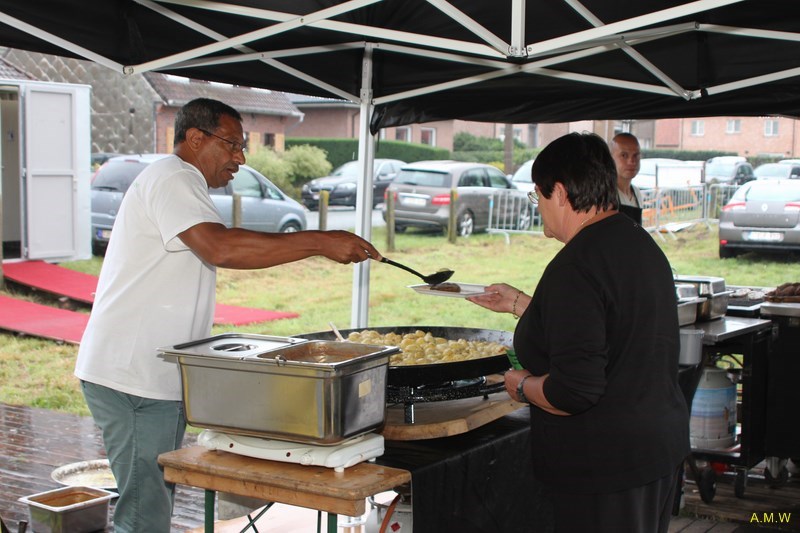 ---