Solar Panels Kitabi Rwanda 2018
Name project: Project 84 – Solar panels Kitabi
Location: Centre Sisters St Franciscus of Assisi
Kitabi, Nyamagabe, South Prov. Rwanda
Project leadtime: 3 months
Requestor: Benedicta Mukanyangezi
Description of the project:
As the multipurpose hall is ready, an additional source of energy is needed in the centre. As the electricity provision via the net is not stable, we opted for installing solar panels.
Objectives:
The continuous availability of electricity in the buildings and guaranteeing safety (lighting also after 18h00 and before 06h00)
Decrease the running costs as less electricity will be taken from the net
Beneficiaries:
The disabled children/youngsters (intern and extern)
The population of Kitabi in general
The Sisters (their residence)
Budget:
The total budget of the purchase and installation is 12.500 €.
Risks:
None
Attached documents:
Detailed quotation by MunYax, supplier recommended by the Belgian embassy in Kigali.
---
Follow-up of the project
Date: November 2018

Name project: 84 – Kitabi Solar panels
General status:
Progress since last status report:
We greatly appreciate the work of MUNYAX thanks to the efforts of Vleugels van Hoop.
The final acceptance of the installation has not yet taken place, because the setting for the rooms of block No.2 (disabled centre) are not yet realized. During the "HANDOVER" the block will be installed.
Financial status:
Problems/concerns:
Attached documents (pictures, reçu's,…):

Pictures
---
Images
Clic on the image to see the whole album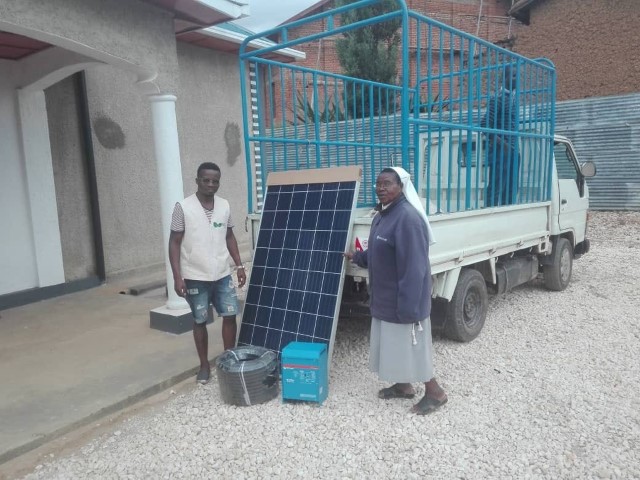 ---