Kitabi – Chicken farm
Location: Kitabi Rwanda
Project leadtime: 6 months
Requestor: Sister Bénédicte MUKANYANGEZI (responsible for Kitabi), via Donatha Kanzayire (superior of the congregation)
Description of the project:
Chicken farm which will support the families of the disabled children. These children are hosted in the centre as their parents can't take care of them themselves.
Objectives:
Improve the quality of the nutrition of the children by production of eggs and meat.
De centre will teach the parents in taking care of the chickens by giving every family 2 chickens to take care of at home.
The chickens will produce sufficiently good manure to use in the vegetable garden.
Beneficiaires:
Direct: the disabled children in the centre and their families
Indirect: the population in the neighbourhood of the centre
Budget: 2.542.000 RwFrs
| | |
| --- | --- |
| Description | Cost |
| Construction chicken farm | 500.000 RwFr |
| 250 chickens (4 months old) | 1.000.000 RwFr |
| Feed for 3 months | 877.500 RwFr |
| Veterinary care | 30.000 RwFr |
| Vets fees | 45.000 RwFr |
| Tools, drinking basins, cribs, nests etc. | 90.000 RwFr |
| Total | 2.542.000 RwFr |
Risks:
Attached documents:
---
Follow-up of the project may 2017
General status:
The project is finalised.
Progress since last status report:
The chicken farm was build, in 2 parts. After the first purchase of chickens a disease killed many and additional chickens were bought; at the moment there are more than 100 chickens in the farm. During our visit sister Benedicta gave 22 times 2 chickens to the families from the environment. Everybody was very happy!
Financial status:
All funds were fully spent as budgeted.
Problems/concerns:
None
Attached documents (pictures, reçu's,…):
Pictures
---
Images
Clic on the image to see the whole album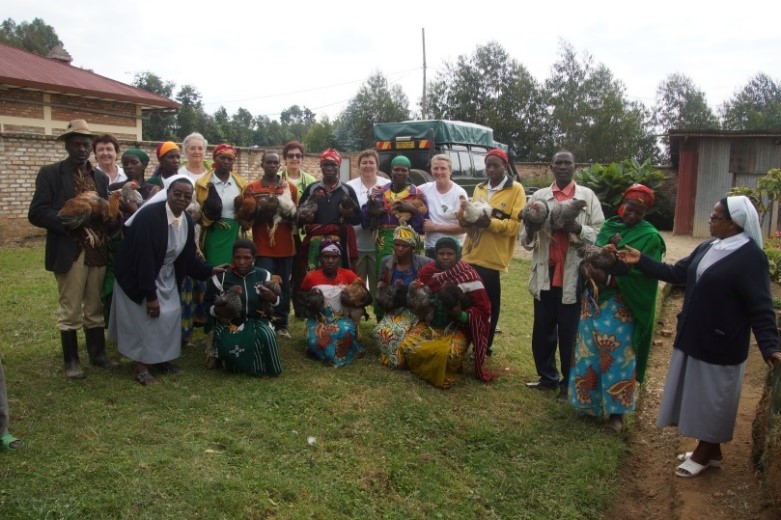 ---