Sewing machines (mechanical)
Location: Mabayi, Province Cibitoke, Burundi
Project leadtime: 1 year
Requestor: A.D.A.B (represented by Bararwendera Joséphine)
Description of the project:
Young people complete the vocational training but cannot effort to buy a sewing machine. A.D.A.B. often gets the question to rent a machine. As all sewing machines for A.D.A.B. are rented already, we cannot reply positive on this question.
A.D.A.B does not have sufficient means to buy more machines. In case a benefactor would help us we would do all needed to support this target group in their integration in the socio-economic world.
When a youngster manages to buy his/her own machine, the rented one is returned to A.D.A.B. The machine will then be handed over to another youngster.
Objectives:
Rental of mechanical sewing machines (under a contract) to young people
Learn youngster to safe money from the incomes from the rented machines
Increase their self-reliance by making them pay a small monthly fee for the rented machine
Help the youngster to integrate in the socio-economic world
Beneficiaries:
Youngsters of Mabayi who completed their tailoring vocational training.
Budget:
1.725 € for the purchase of 10 sewing machines
Risks:
Youngsters with bad intensions could sell their machine or make it stolen
After several years the machines will be in a poor condition
Problems related to spare parts
Attached documents:
---
Follow-up of the project
Date: May 30th 2020

Name project: Sewing machines (mechanical)
General status:
- The sewing machines are purchased
- A list is established of young consumers
- The model of the lease agreement is developed
Progress since last status report:
This is the first report. Next week a meeting is planned with all the users to discuss the project objectives and the contract signing.
Financial status: (BIF = Burundi franc)
- Total cost of the project: 3.500.000 BIF
- Purchase of 10 machines: 3.250.000 BIF
- Transport: 150.000 BIF
- Mounting & control: 100.000 BIF
Problems/concerns:
The purchase of the sewing machines was slightly delayed, as we first had to find a storage space to store them safely before distributing them.
Attached documents (pictures, reçu's,…):
Pictures, invoice…
---
Follow-up july 2020
Date: 30 July 2020

Name project: Sewing machines (mechanical)
Project No.: 104
General status:
All 10 machines are functioning well. There are no complaints from the users.
Progress since last status report:
A dozen young people practice the learned profession.
They are very happy and grateful to the association Vleugels van Hoop.
Financial status:
This is the first month of activities and all users are debutants.
As a result, revenues are still very low: 5.000fbu X 4 = 20.000fbu.
For the 3-month trial period, the Association ADAB charges 5.000fbu/month/person for rent.
Problems/concerns:
Nihil
Attached documents (pictures, receipts,…):
Lease contracts, pictures
---
Images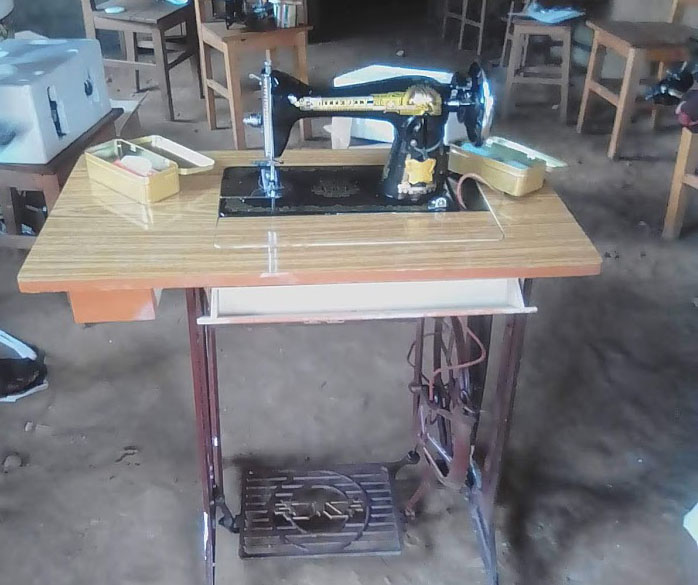 ---