Rehabilitation and sustainable maintenance of 14 village wells
Location: 6 villages – Muleba district - Tanzania
Project leadtime: 1 year
Requestor: Richard KBataringaya on behalf of Action for Ngono Basin
Reforestation (ACTNGONO)
Description of the project:
This project will improve the access to safe and clean water for domestic use and livestock, for the residents of 6 villages in the Muleba district : Kiyebe, Rugando, Nkahama, Rubao, Nshambya, Ibare. The originally 34 wells were constructed in 2002 but as no handover and information on well maintenance was provided, by now only 2 of them are still operational. The project will be executed in 2 phases where in the 1st phase 1 well per village will be replenished and in the 2nd phase all remaining wells.
Objectives:
Rehabilitate & refurbish 14 hand dug wells in 6 villages
Train 24 men well maintenance and repair mechanics
Promote replication of the experience in other wards
Promote hygiene and sanitation training in 6 villages.
Beneficiaries:
| | |
| --- | --- |
| Village | Population |
| Kiyebe | 3.106 |
| Rugando | 2.441 |
| Nkahama | 2.463 |
| Rubao | 1.834 |
| Nshambya | 2.402 |
| Ibare | 1.359 |
| Total | 13.605 |
Budget:
The overall project budget is 47.656.000 Tanzanian Shillings from which ACTNGONO will fund 36% themselves. The funding confirmed by Vleugels van Hoop is the 30.590.000 Tanzanian Shillings, equal to about 11.700 €.
Risks:
Risks will be low as the project will benefit from the lessons learned from the 2002 implementation project.
Attached documents:
Detailed proposal, pictures of some wells, registration certificate, ….
---
Follow-up of the project
Date: December 3rd 2020

General status:
The project was started immediately after receiving the funds. Preparation meetings with all stakeholders were held and the first 6 pumps were purchased. The pumps are installed by now; 1
on a deep well and 5 on shallow wells, in the villages Kiyebe, Rubao, Nyamilanda, Kabanga, Kitenga and Kiteme.
The rehabilitation of these 6 water wells help communities to have access to safe drinking water, reduced time spent to go in search of water (reducing lateness at school) and reduction of diseases reported cases.
Financial status:
The received funds are fully used, in line with the agreed detailed budget for this phase.
Problems/concerns:
As 1 of the pumps is placed on a deep well, costs for pipes etc. were higher than expected
Heavy rains made the transport of needed goods very difficult and prevented some people to join the project, as they had to focus on their own farm/garden.
Attached documents (pictures, receipts,…):
Detailed overview of the expenditures, receipts, pictures.
---
Images
Clic on the image to see the whole album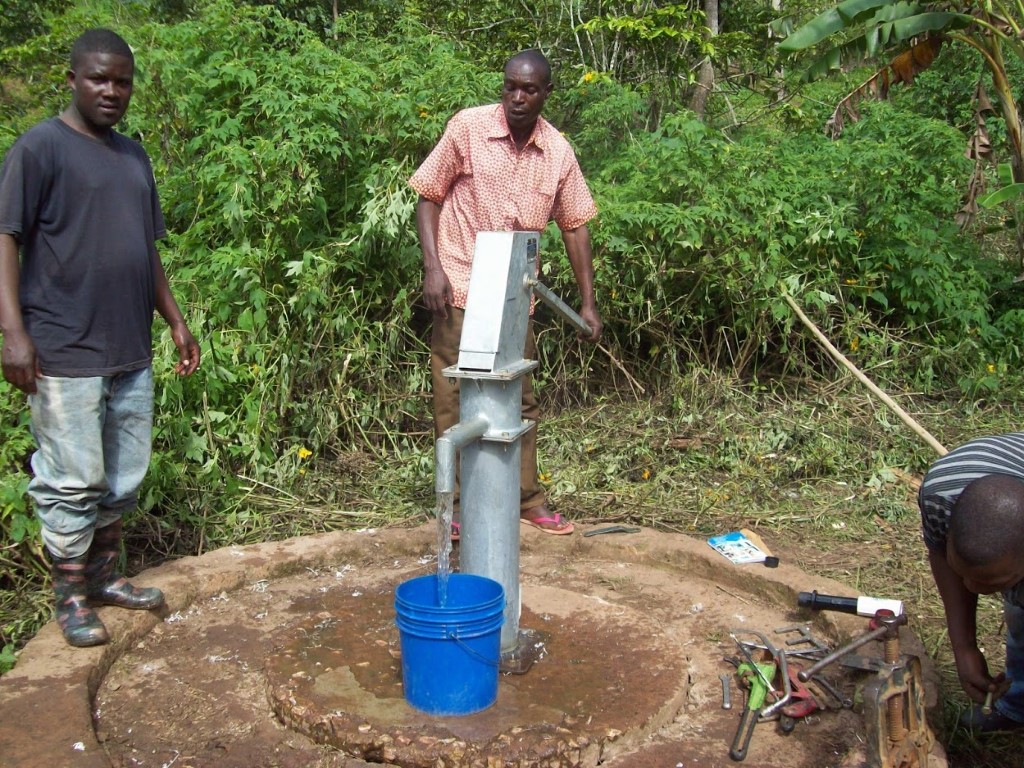 ---