Bakery
Location: Okweta, Katine County, Soroti district - Uganda
Project leadtime: 6 months
Requestor: James Alemu on behalf of Hands for Children
Description of the project:
The bakery, to be built at the center, will produce baked bread: doughnuts, cookies, breads, hamburgers, cakes, etc. The bakery team will be able to produce up to 1,000 doughnuts and other types of bread in one day and the sales team is able to sell those types of bread within 2-3 days. The bread will be consumed by the children and will be sold in the Soroti district. The income will be used to cover the costs.
Objectives:
Food for the children,
Building a broad and committed customer base and developing a business model that brings in enough income to cover expenses,
To increase the number of employees at the bakery, the production, the profits and sales, the net income by 2023,
Establish and maintain high standards of sanitation.
Beneficiaries:
The vulnerable children.
The out of school children.
The boys and girls in the Joy centre.
Budget:

24050 €

Risks

None

Attached documents:

Detailed budget figures
---
Follow-up of the project
Date: Sept 1st 2022

Name project: Hands for children - Bakery
General status:
During the first 3 months of the project the building of the completed; paintings have been done, doors and windows installed and floors completed. Net power has been brought in and electric installation activities are ongoing and waiting for inspection soon.
Waterworks have been done and we're waiting for the meter and the tap to be connected.
The supplier for machines have been identified and equipment has been ordered. In the meanwhile the dough mixer has been delivered and we're waiting for the oven and the cutter. The oven will be tested first before payment.
The project is 90% completed, as only installation of the equipment is remaining before we can start baking.
Financial status:
The received funds, 24.050 €, are in use as planned.
Problems/concerns:
Purchase of equipment needed to be done at a supplier outside Soroti city and delivery takes a lot of time.
Attached documents (pictures, receipts,…):
Pictures
---
Images
Clic on the image to see the whole album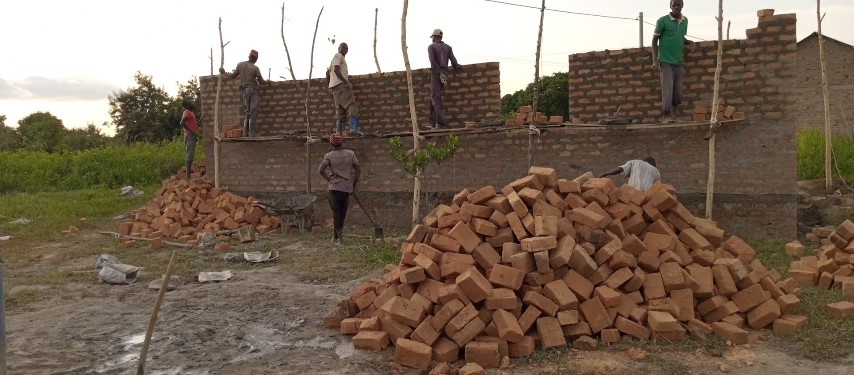 ---