Horticulture
Location: Uvira, South-Kivu, DR Congo

Project leadtime: 6 months

Requester AJEAK vzw - MUTEREKWA NDAGAHWA KINUKA Joel, COORDINATEUR.

Description of the project:

The population of the middle and high plateaus of Uvira suffers from acute and severe malnutrition due to lack of food, as the population that lived on agriculture and livestock has no time to cultivate after the repeated displacements caused by armed conflict. Deaths of pregnant women and children suffering from malnutrition are recorded in several villages.

Objectives:

This project aims to reduce the death rate of pregnant women and children suffering from malnutrition from the consumption of legumes and to improve their health status, as well as the lowering of the price of vegetables on the markets.
60% of the production will be distributed to the beneficiaries and 40% will be sold to allow the self-financing of the project after the planned 6 months.

Beneficiaries:

300 pregnant women and children suffering from malnutrition.

Budget:

3923,85 €

Risks:

Attached documents:

Detailed description of the project and budget
---
Follow-up of the project
Date: 10th, May 2022

Name project: Horticulture
General status:
After receipt of the funds on 04 March 2022, the following activities were carried out:
Recruitment of the agronomist who carries out the project by means of a contract for a period of 6 months
Signing of a lease for buildable land for an area of 1 hectare each, including 1 in Katala, 1 in Lemera and 1 in Mulenge for 6 months (local contribution from our organization AJEAK asbl)
Plowing and harrowing of 3 hectares
Purchase of seeds, agricultural raw materials and equipment
Purchase of phytochemicals
Progress since last status report:
- Nursery preparation and germination of tomatoes, carrots, aubergines, amaranth, cabbage palm, onion for a period of one month,
- Constant weeding, watering, spraying plants with chemicals.
The project is already in 2.5 months of implementation of the planned 6 months.
Financial status:
The difficulty arises with the conversion rate from Euro to US dollar because during the design of the project, 1 euro was equal to 1.1345 US dollar, while during the project implementation 1 euro was converted to 1.09 US dollar, which caused a shortfall in the payment of the agronomist for a period of 2 and a half months because of the war in Ukraine on the exchange rate. This difference is managed internally by our organization AJEAK.
Problems/concerns:
Cases of severe and moderate malnutrition are numerous in the project implementation area. Therefore, there are many requests to extend the project to other health zones and health areas that are not beneficiaries of the project.
Attached documents:
Photos, leases, invoices
---
Images
Clic on the image to see the whole album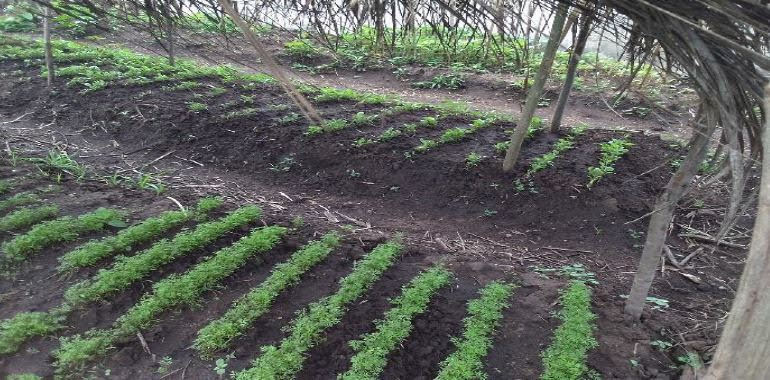 ---