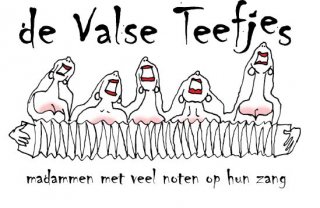 Benefit Performance the 'Valse Teefjes'
The Valse Teefjes (fake bitches) are twenty polyphonic singers but for sure not a strait forward choir. Assisted by their house band – playing the violin, accordion and tuba - they bring a lively program. The Valse Teefjes throw themselves on pop & rock, schlager, opera, soul, blues, jazz, fight songs, arias, miscellaneous and etc. The recipe is a juicy mix of well-known covers and own, idiosyncratic lyrics on a bed of varied Flemish dialects. From the dialect from Ghent via the one from Aalst to Bruges and Brussels the Valse Teefjes are singing their way to Ostend and the Kempen.
Visit our website http://valseteefjes.be/ or follow us on Facebook and find out how the Valse Teefjes are amusing their audience but also touch them.
The Valse Teefjes bring you, with their more than twenty women strong choir and their equally flamboyant musicians, a strong act that can fascinate a wide audience.

The Valse Teefjes
Their repertoire is as colourful as their handbags. Their hairstyles as unsound as their outfit. And their humor as uncontrollably as their enthusiasm.
They bring well-known songs, every time in another Flemish dialect. Everything twisted.
The Valse Teefjes consist of a devils orchestra with an angel choir or is it vice versa?
Together they bring a wild show full of surprises.
Straight from the heart of their rebellious souls from Ghent.
Date: 18.10.2014 at Lovendegem. But already SOLD OUT!!
---
Follow-up of the action
Saturday evening October 18th: a well-filled hall in Lovendegem for the performance of the Valse Teefjes ("The fake bitches"), for the benefit of our organisation, everybody very curious!

Oh boy. ... what an explosion of colours! A group of 29 ladies appears on stage in very colourful, funny outfits and a wide variety of particular hats, skirts, stockings, shoes, handbags ... One didn't know where to look first. They bring songs on well-known melodies but with their own original, funny, sometimes a bit naughty texts in the dialects of West-Flanders, Ghent and Aalst.
They sing about everyday things everyone can recognize: about ironing a shirt, difficult computer terminologies, a day hanging around lazy in the garden, your handbag you can't find. Three great ladies guide them with accordion, violin and tuba. Also the conductor smoothly takes up the guitar.

In short, this was a very beautiful and amusing performance of the Valse Teefjes, a must for those who haven't seen and heard them yet, to be repeated for all who enjoyed it has.
Our sincere and warm thanks to all the Valse Teefjes for this great benefit performance for 'Vleugels van Hoop'.
We are for sure fan of this group of ladies and their songs!
---