GBS De Vlinderdreef Moerbeke
In October our school, GBS De Vlinderdreef in Moerbeke-Waas, got visitors from 'Vleugels van Hoop'! The banana boxes full of artisanal goods were showed in the classroom. The children could grabber to their own choice. The instruments, the football and corkscrew were the favourites. But when they were asked to make a choice in the objects to make a drawing about, the wooden animals became the favourites!

For each class a "well-sized" presentation was given about Rwanda!
This way we could see that the showers and toilets in a school for disabled children have very poor conditions. We wondered how we could help. The money boxes in every class were rapidly filled up by inserting euro cents!
Did you know that class 5B as collected the most? And this deserves a price! François and Bernadette from "Vleugels van Hoop" will come over in February and cook an African meal. This is going to be a culinary adventure! In the meanwhile the children got a piece of art on cloth. The manioc is already pounded!
Rwanda is in the mind of lots of children minds now but above all we wish all the success to the projects of 'Vleugels van Hoop'!
---
Follow-up of the project

---
Images
Clic on the album to see the whole album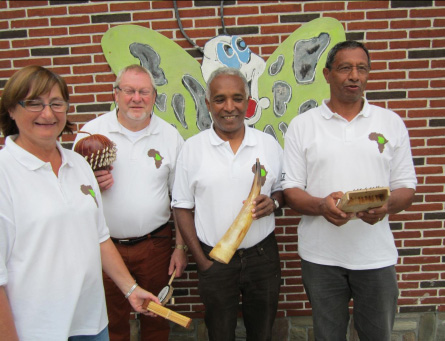 ---