Domestic economy 2008
Socio-Cultural Centre Twese Hamwe
PB 3O84 SECTOR KACYIRU, KIGALI-RWANDA
Tel: 84983/08519801

Traning programme
Name

Home economics

Justification
The objective of Twese Hamwe to support unschooled young people, has persuaded us to offer them the much needed professional training. We already had the opportunity to talk about the reading, writing and sewing lessons.

After an 8 year experience in the field, we have come to conclude that to teach reading and writing in the centre, also encourages young people's inquisitiveness and desire to learn a profession. Even a young man (26 year) has started in 2006.
The socio-cultural centre Twese Hamwe wishes to start a Home Economics course in 2007(??).
There is an important need for well trained staff for local hotels, restaurants, snack bars and families especially in view of the National Program for the Promotion of Tourism in Rwanda.
Beneficiaries
Year I of the training (12 months in total) will consist of 2 teams of 20 young people each:

a)morning team

b)afternoon team
This arrangement allows children who survive by doing small daily jobs, to learn a skill.
Program
Part1 (duration 5 months)
Improve reading, writing and calculating skills
Hygien basics (food)
Laundry/linnen
Part 2 (duration 7 months)

Kitchen training class
Training class: the centre has a small restaurant (serves 20 people)
1 month training period
---
1st Trimester report

Start training course January 2008
21 students with different learning backgrounds will attend lessons from 08.00 am to 1:30 pm
Courses to catch up (mathematics, English, French) will be provided.
The program includes
Accounting basics 1 hour/week
Restaurant techniques 2 hours/week
French 4 hrs/week
English 4 hrs/week
Pastry 2 hrs/week
Reception 1 hr/week
Etiquette 2 hrs/week
Laundry/linnen 1 hr/week
Training class 12 hrs/ week
Donation of 8294 € (6.246.800 RwFr) of CSA/Alimentation&Service
This amount allowed us to start the training
In order of importance, our preference went to :
Kitchen with storage room : 3250.000 RwFr
Work top (bar) 375.900 RwFr
Kitchen and restaurant utensils (see attachment): 2.634.000 RwFr
Total = 6.259.000 RwFr
Objective

The centre will assume full responsibility of the less privileged. Their education wll be free. Others will contribute a small sum of 15.00 RwFr (18.00 €) which will be used as a fee for the teachers and to pay for some ingredients needed during the training classes.
Conclusion

The Centre's dynamism and its accomplishments are many reasons to be make all donors proud.
We take the opportunity to invite you to Kigali to witness yourselves how your donations
have paid off and serve the right purpose.
We sincerely thank all our sponsors and hope to be able to count on their continued support.
Without any doubt, you have allowed these young people to look forwards with confidence
to a brighter future.
The Socio-Cultural Centrum Twese Hamwe is hoping to find donors for the financing of the complete equipment for this project : 12.478.OOO RwFr (17.827€)
Home Economics and Hotel Training Programme

Machines and equipment
Refrigerator, freezer, cookers ..... 8250 €
Furnishing and utensils
Tables, chairs, dishes, cupboards......5782€
Kitchen utensils (preparation/cooking )
Cooking pots, frying pans, knives, salad bows, meat planks ….. 2074 €
Dinner sets to serve food, drinks ...
Dishes, plates, glasses, bowls .....1069€
Water and electricity adjustments
Work hours, miscellaneous equipment ... 652 €
---
December 2009 - Images
All participants in this course immediately found a job in the hotel and catering industry (region Kigali). It is a proud Bernadette Umurerwa (standing 3rd of right) responsible for the centre, who shows us the photographs from the diploma distribution event.
The kitchen area for the training was extended with a gas stove and in the big room cupboards have been placed to store glasses, plates,…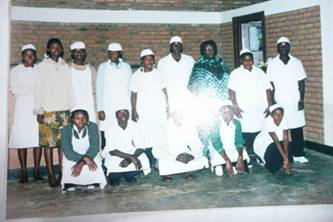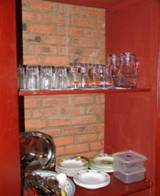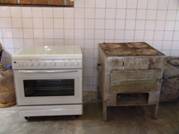 ---
---