Newsletter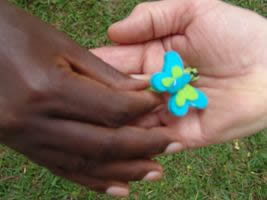 With pleasure we inform you, via mail or email,
with this newsletter about the ongoing projects.
We use this opportunity to SINCERELY THANK all our sponsors.
You offer WINGS to so many people!!
March 2009

Three Cyangugu-projects (South-West Rwanda)
As promised and thanks to the mail of Benedicte, the local responsible, we can inform you on the following (translation follows):
'Dear Wings,
Thank you for your news, related to projects and realisations. It is true, as you write, that the communication with our region is very difficult, because of difficult phone connections and the distance we have to bridge to have a possibility to work with the internet, please apologize us for this, not anything we can do about this.
Concerning the projects … we have started:

The project sewing- and knitting workshop
We started with the sensitisation, the explanation of the advantage to 'work together' – the both ways support in case of problems. Don't wait for things to change but take initiative. 22 persons, divided in 2 groups, took the challenge. Group 1 has already started, group 2 starts in April 2009. We started with explanation and functioning of the sewing machines. As the majority of participants are analphabetic, this took 5 lessons. After some exercises they are able to repair their pagnes (clothing), sew small pants and dresses, sewing handkerchiefs....They make progress and are very satisfied…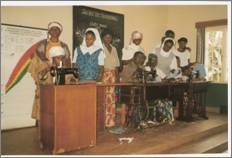 Growing project
Related to the growing of chickens and rabbits: this has been given to children, between 5 and 14 years old, infected with AIDS. The purpose is to give the children an occupation and responsibility.
Related to the growing of the goats: the construction of the stables is ongoing. We hope to finalize this in March. We'll send you the project evaluation and hope to finalise all well (despite the low currency converting rates).
Milk cow Cyangugu
Good news about our cow 'Caritas'. It is a good domestic cow. She already has a calf of 3 months, but unfortunately she gives not that much milk: 6L per day. We expected more but found out she is not really a milk cow, which doesn't mean that the undernourished children don't get their part.
So far the projects.
We wait for your answer related to the pastures.
We are very satisfied on what we can realize with your support and efforts.
We hope you are all OK and again sincerely thank you.
May God bless you.'
---
Project Shyorongi 2009
Similar as for Cyangugu, a fluent email communication is the problem!
Via the last email of the responsible (Christine) we were informed that they tried to reach us several times without success.
The school year has started, with 450 pupils, all internals. Poverty everywhere. They request, with insistence, whether we can do something about the poor circumstances for these children.
As mentioned in our last newsletter (January 2009) 'Vleugels van Hoop vzw' hopes to support this school in the arrangement of the new dormitories.
Cost overview for equipment of 200 internal and 320 external pupils
200 internal pupils

Amount

Price per unit


TOTAL
Fr Rw

TOTAL Euro

1

Cupboards

200

40.000

8.000.000

10.810,81

2

Beds (2 on top of each other)

100

135.000

13.500.000

18.243,24

3

Mattresses

200

13.000

2.600.000

3.513,51

4

Mattress covers

200

1.000

200.000

270,27

5

Blankets

200

6.000

1.200.000

1.621,62

6

Pillows

200

1.000

200.000

270,27

7

Pillow covers

200

500

100.000

135,14

8

Lower sheets

200

1.000

200.000

270,27

9

Sheets

200

4.000

800.000

1.081,08

10

Pyjamas

200

1.000

200.000

270,27

11

Towel (big)

200

2.000

400.000

540,54

12

Towel (small)

200

1.000

200.000

270,27

13

Washcloth

200

200

40.000

54,05

14

Slippers

200

1.500

300.000

405,41

15

Shirts (5 per pupil)

1.000

500

500.000

675,68

16

Slips (5 per pupil)

1.000

300

300.000

405,41

200 internal + 320 external pupils

1

Toilet bag

520

500

260.000

351,35

2

Hair brush

520

200

104.000

140,54

3

Soap

520

200

104.000

140,54

4

Plastic cup

520

100

52.000

70,27

5

Toothbrush

520

100

52.000

70,27

6

Toothpaste

520

300

156.000

210,81

TOTAL

29.468.000

39.821,62
Twenty nine millions four hundred sixty eight thousand Rwandese Franks i.e. about forty thousand euro's (depending on the currency conversion rate)

We hope to collect (a part of) these funds on our FETE which takes place in Moerbeke Waas,
in the frame of HEIKENSKERMIS, on Saturday August 15th 2009.
Please mark August 15th already in your calendar.

---
Fiscal attests
As mentioned on our website www.vleugelsvanhoop.be we are waiting, as young association, on the recognition to have the right to give out fiscal attests.
To get this recognition we have send in a request to the Ministry of Finance in November 2008, one year after our start. Last month we shortly checked with the responsible person who follows up on our file. She informed us that there is a delay in the processing of the files. We don't have to expect any feedback within the first half year after sending in our request!
In the knowledge that in case we get the recognition this one will be valid with retroactive back to January 1st we patiently wait for more information. Of course we will keep you all updated on the status of this recognition.
Still some months of patience …for you as Wing of Hope …for us all together as association 'Wings of Hope'.
---
Financial overview 2008
In 2008 we got, thanks to your support, € 24.445,26 in, more specific:
€ 15.135,12 as gifts
€ 1.300,64 as activity benefits
€ 1.950,00 as subsidies and
€ 6.059,50 as gifts after activities by third parties.
Besides € 2.878,09 functioning costs (one time start costs, printed papers, activity costs,…) we have spend the incomes a good as possible. In total we donated € 23.000 to our projects.
An overview of support to the different projects (see also www.vleugelsvanhoop.be):
Cyangugu € 2.300
DAB € 3.800
Gisimba € 5.850
Munyinya € 9.060
New Horizons € 300
Twese Hamwe € 1.510
Thanks to your gifts the realisation of these projects was possible in 2008!!
In 2009 we'll focus on new projects.
Driven on Wings of Hope we dare to go for it, together with you!!!
---

Thank you to so many people who, close by or far away, likes on the ideas of 'Vleugels van Hoop' vzw and support them.
Do you want to support 'Vleugels van Hoop'vzw?
Bank account number 001-5300142-41
From the bottom of our hearts: THANK YOU!