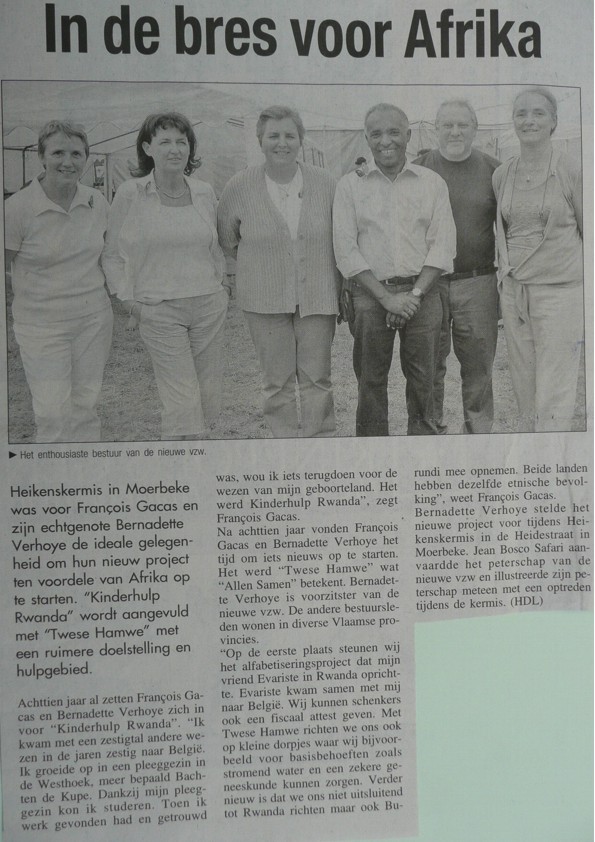 Heikenskermis 2007 in Moerbeke was for Francois and its spouse Bernadette Verhoye the ideal occasion to start their new project for the benefit of Africa. (-)

Already eighteen years Francois Gacas and Bernadette Verhoye committed themselves for Rwandan projects.
"In the sixties I came with about sixty other orphans to Belgium. I grew up in a foster family in the West part of Belgium. Thanks to my foster family I could study.
When I started to work and got married I wanted give something in return to the orphans in my country of birth by means of a non profit organisation which supports projects in Rwanda.

In 2007 however it became time to start something new, a new non profit organisation with the name
'Vleugels van Hoop'* *"Wings of Hope" with a first project "Twese Hamwe", which means "All together".

Bernadette Verhoye is President of the new non profit organisation. The other board members live in several Flemish provinces.

"In the first place we support the literacy project, started by my friend Evariste in Rwanda.
With Twese Hamwe we aim also at small villages, where we for example can support on basic needs like flowing water and a basic medical care.
Furthermore new is that we aim not exclusively to support Rwanda but also Burundi.
Both countries have the same ethnic population says Francois Gacas.

Bernadette Verhoye presented the new project during Heikenskermis in the Heidestraat at Moerbeke.

Jean Bosco Safari accepted the 'godfather hood' of the new non profit organisation and illustrated its godfather hood immediately with an action during the village fair.
---