Eighteen female members, farmers and lower state civil servants,
of the Burundi association "DUSHIGIKIRE AMAHORO I BURUNDI"
(abbreviated DAB) had a wish to give the young people
in their small village Mabayi, in the north of Burundi,
a professional education in sewing.
The objective of the association is to prepare young people, who quitted school (read primary education) too early, to foresee themselves in life needs, as well as to help their families.
A lot of young students don't succeed in passing the national examination and therefore end their school career.
Others have to give in because of the chafing poverty of their parents or because they are responsible to support their family.
Even when they don't end up in criminality, they often have to continue living, as non educated professional, based on minimum financial means.
Offering these young people an education by offering them a firm basis in sewing, eventually followed by a course in housekeeping, will allow them to higher their and theirs family life standard.
In general

Offer a possible self-maintaining socio-economic status for uneducated young people
More specific

a) Profiling young people
b) Education them to skilful, qualified employees
c) Preparing youth to lead a household
d) Create new activities thanks to the turnovers
Therefore the beneficiaries of the project are:
- Directly: young people - level 6 of primary school
- Indirectly: the families of the young people and the surrounding population
The staff exists of

- A qualified sewing teacher
- A supervisor
- A night guard
Currently the association is owner of

- 130.000 BuFr by COSPEC Mabayi
- A small work shop
- A mini-equipment and sewing material (a sew machine, a table to cuts tissues, 2 chairs, 1 scissors, an ironing tool).
The association 'Vleugels van Hoop' vzw has the wish to realize
1. Installing a sewing atelier: furniture and materials
2. Support for the personal by hiring a night guard
3. Selection of the young people based on their school results of the 6th grade
4. Start the education
5. Execution of the program
6. Grouping the young people in production entities
Expected results
Education of 10 youngsters
Establishing the production entities
Donation of a solid education-package to allow them to become self-maintained

Duration of the project
1 year (12 months)

Start and end date
January 2008 – December 2008

Total cost of the project
4.402.090 Burundese Franks, equal to about 3522,00€ ***

Location
Province of CIBITOKE, Village Mabayi, Zone Mabayi, Kabere Hill.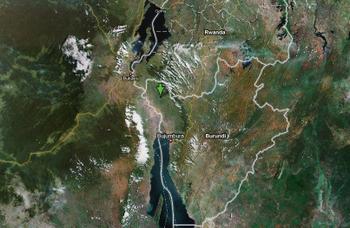 Legal representative
Joséphine BARARWENDERA
Project responsible
Ivette NIYIZOMPA
*** Detailed year budget:
N°

Category

Quantity

Price

Total

DAB

I. Equipment
1
Table
1 piece

20.000

20.000

2
Stools
10 pieces

1.500

15.000

3
Chairs
2 pieces

6.000

12.000

4
????
2 pieces

2.000

4.000

II. Materials
5
Cotebu tissue
10 rolls

60.000

600.000

6
Popeline tissue
20 rolls

14.000

280.000

7
Comoinée machine
1 piece

250.000

250.000

8
Bastmachine
1 piece

150.000

150.000

9
Sewingmachine
5 pieces

90.000

450.000

10
Buttons
2 packages

9.000

18.000

11
Wire
30 packages

300

15.000

12
Ironing tool
1 piece

6.000

6.000

13
Electrical ironing tools
1 piece

20 .000

20.000

14
Lace
10 rolls

3.000

30.000

15
???
10 pieces

1.500

15.000

16
Needles
10 pieces

500

5.000

17
Elastics
10 pieces

3.000

30.000

18
Scissors
10 pieces

3.000

30.000

19
Books
2 pieces

1.500

3.000

20
Register
3 pieces

2.500

7.500

21
Stamp
1 piece

10.000

10.000

Subtotal I

1899000

III Staff
22
Supervisor
1

60.000/month

720.000

23
Teacher
1

50.000/month

600.000

24
Night guard
1

30.000/month

360.000

Subtotal II

1.680.000

Subtotal III

3.579.000

Unforeseen costs
10%

357.900

Coordination costs
10%

393.690

Overall total

4.330.590

4.330.590

71.500

Total cost of the project

4.402.090 BuFr

About € 3522
Follow-up/evaluation
The follow-up/evaluation is insured by the executive committee of the association "DUSHIGIKIRE AMAHORA I BURUNDI", abbreviated to DAB.
They will watch over the beneficiaries of this education/training, to meet/gather to obtain maximum turnovers from obtained knowledge and gained experience.
Agreed and written at Mabayi, on 21/09/2007
for DAB
Joséphine Bararwendera
legal representative
---
Two monthly report February-March
Sewing work shop 'Dushigikire Amahoro I Burundi
In Mabayi – Burundi


1. General report
As a succession of the agreement between the associations 'Dushigikira Amahoro I Burundi' from Burundi and "Vleugels van Hoop" vzw from Belgium the sewing education started on January 18th 2008.
But the preparational activities already started on January 18th 2008.
Some youngsters couldn't follow the schooling as wished:
1 girl because of an eye disease (note : it will be checked whether the girl can be medically helped to allow her to follow the schooling), others because they live to far away from the centre, 1 single mother, others because they were evaluated not to be good candidates or not showing enough interest : 2 boys.
As there were several other applicants all vacancies were fast filled up with other candidates.
Proves of the progress of the activities will be delivered in the form of pictures which will be taken during Easter holiday by César, the son of the responsible person.

2. Financial report
Work shop improvement works and purchasing goods
Coordination costs
Fees for the training personnel
Bank fees
Total costs

3. First pictures
Front view work shop Mabayi and Trainee exercise first lessons in sewing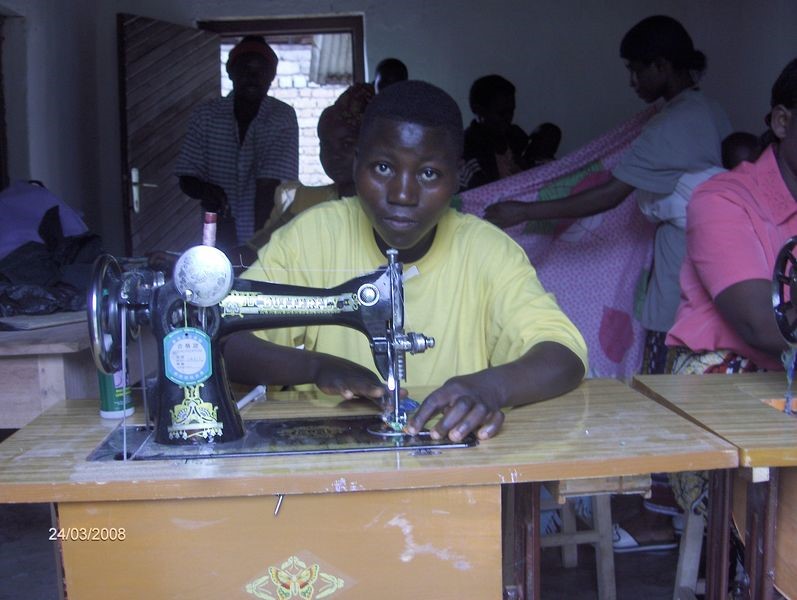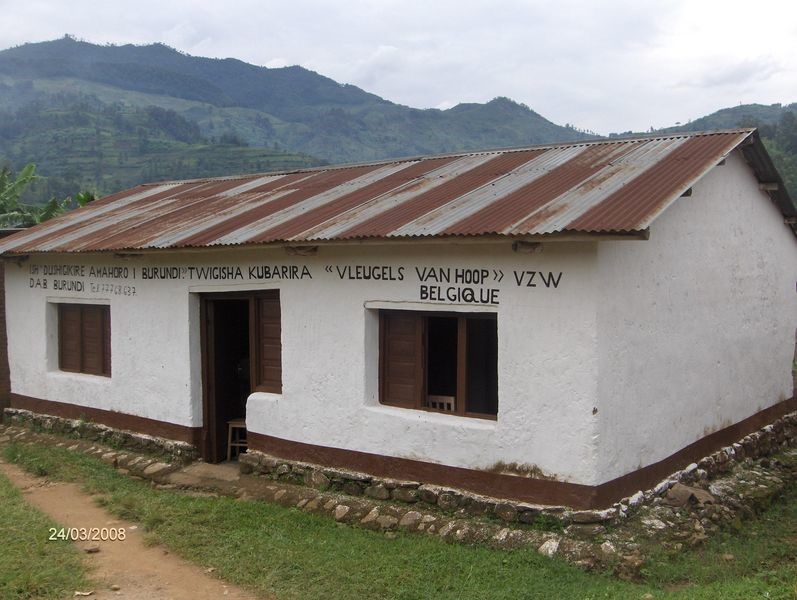 ---
Bi-monthly report
D.A.B on May 22nd 2008

Made by D.A.B, MABAYI, BURUNDI July 10th 2008
1. Activities.
Name of the student

Completed pieces

Dress

Childrenshirts
Jackets

Shirts

Trousers

NSENGIMANA Anathalie

1

2

2

1

NTIRENGANYA Petronille

1

1

NIZIGIYIMANA Yvonne

1

1

KWIZERA Aline

1

1

DUSHIMIRIMANA Jacqueline

1

1

2

BARAMPENDA Damien

1

1

1

NIRERA Maxime

1

1

1

NIZIGIYIMANA Crescence

1

1

1

BIZOMENYIMANA Edmond

1

1

1

IRAMBONA Claudine

1

IRANKENGURUTSE Saïdi

INEZAYIMANA Jeanne d'Arc

NTIRENGANYA Pélagie
The 3 last persons are new and therefore didn't complete any pieces yet.
Students 2,3 and 4 are often absent as they need to pick up food for their small children. Student 10 had a problem with the eyes in the beginning, we had her treated and now she follows the courses with lots of devotion and satisfaction.
The D.A.B association thanks, the people who make this education feasible, from the deepest of her heart.
2. FINANCIAL REPORT, established by treasurer Antoinette NIYIBIGIRA
2.1 Financing

Amount received in national currency : 3.497.870FrBu
2.2 Expenditures up to May 2008

Action

Total

1. Bank

Opening bank account

7.000

Bank costs

11.850

2. Equipment atelier

Table

23.000

Chair

13.000

Stools

20.000

Fixing costs atelier

95.950

Equipment night watcher

7.600

3. Startequipage

Purchase machines

910.000

Tissues and other equipage

95.200

Other equipage

66.700

4. Communication- and transport costs

55.000

5. Maintenance machines

63.000

6. Expenses speculators

203.500

7. Unexpected expenses

345.200

Total of expenses

1.917.000

SALDO

3.497.870
-1.917.000
=1.580.870
The remainder is one million five hundred eighty thousand eight hundred seventy Burundi francs
---